The holiday season will be a little more merrier for Alicia Keys and husband Kasseem Dean(aka Swizz Beatz)! On Tuesday the singer revealed that she is due to welcome her second child on December 31st – New Years Eve!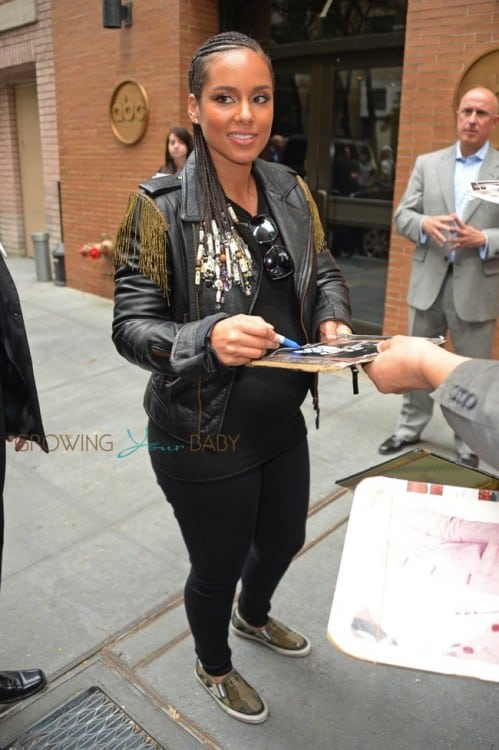 During an appearance Alicia revealed the exciting news while promoting her new 'We Are Here movement', which, according to the campaign website, aims to "create the change we all want to see in the world."
Motivated by her new role as a mom, Alicia told the ladies of The View, "Being a mother has definitely given me more of a fierceness and an understanding of just what I believe in, that much more."
For the initiative Alicia posed nude with a peace sign across her belly.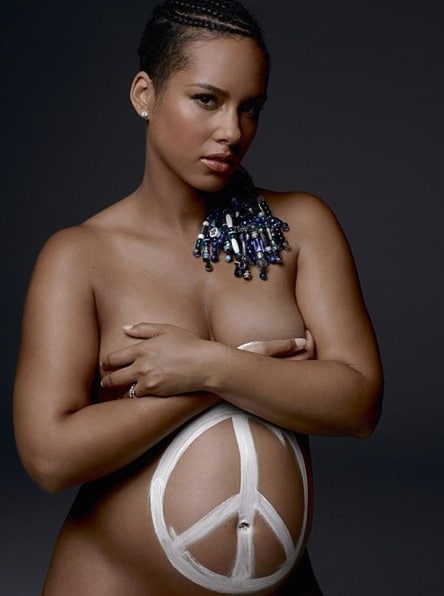 We Are Here is a movement inspired by Alicia Keys to raise awareness of issues around the world that cannot be solved in isolation. We are joining together to give birth to a movement based on the idea of social ecology – that we're all related and need to work in harmony to create a kinder and better world for all.
After her appearance Alicia stopped to sign autographs for fans waiting outside of the studio.  Now 6 months along, her growing belly could be seen peeking out from behind her leather jacket.
When baby number 2 arrives he or she will join Alicia and Kasseem's three-year-old son Egypt.
---
[ad]