Anna Paquin was cute in a printed dress while out for a walk with her husband Stephen Moyer on Saturday.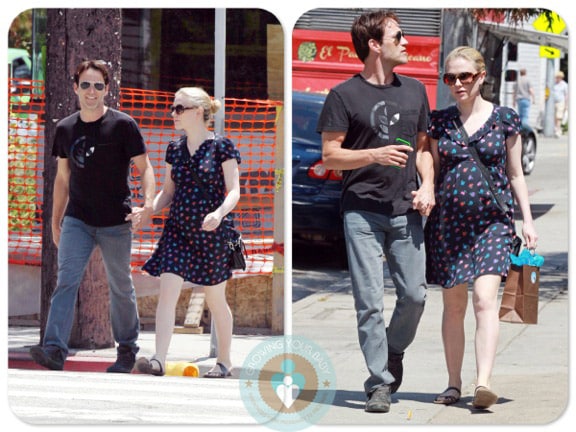 Pregnant with her first child, the actress is currently filming her hit show True Blood.
And while her pregnancy is going great and she is not experiencing any sickness her expanding baby bump is causing problems for the show's writers because they are trying to conceal her pregnancy.
Creator Alan Ball explained:
"So, in the last few episodes, Sookie's holding a big purse in front of her at all times.

"I actually heard from the costume designer about midway through the season, she went, 'Sookie can't wear a Merlotte's [restaurant] T-shirt anymore.' And I went, 'Well, it's a good thing Sookie isn't really at Merlotte's anymore, she's basically trying to save the world.'

"So, we'll put her in loose-fitting, save the world outfits."
Anna also confirmed that her pregnancy won't be written into the show.
She said: "At this point, [Sookie] doesn't have a boyfriend on the show."
The new baby will be the first child for the couple, but the third for Stephen, who is already dad to Billy, 12, and 10-year-old Lilac from previous relationships.
He told Zap2it: "I love my kids so much. And I think that the fact that Anna is pregnant just adds more crazy to the bundle of fun."
{PACIFIC COAST NEWS}
SOURCE
---
[ad]