There are so many choices of toys for developing babies. Once you have picked the perfect product, a new one is introduced the following week with better features. Some make noise, have things hanging off of them, while others vibrate and sing.
Here are a few playmats that are currently on the market that incorporate a few good points. They encourage tummy time, have a variety of things for your infant to play with and have activities that will grow with your baby as their interests
change.
PLAYSKOOL LET'S PLAY TOGETHER PEEK 'N PLAY DISCOVERY DOME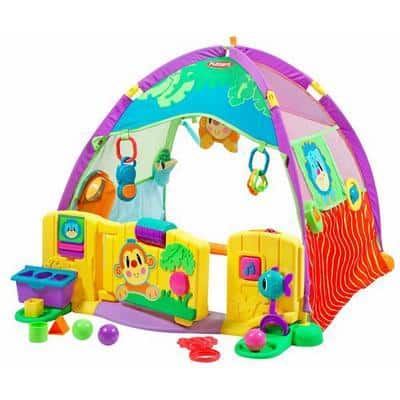 This play gym has it all. It is the only play gym I picked that doesn't have anything to encourage tummy time. There are more than enough other features to keep you child occupied and learning new skills. Smiling critters, inviting textures, mesmerizing colors and activities to explore and discover at every stage of your baby's development. Play "peek-a-boo" behind the curtain! Ring the doorbell! A special squeaker phone is great for pretend conversations. A shape-sorting mailbox introduces shapes and colors. Your baby can bat and kick at the cute hanging toys. Get baby's attention and shake the rattles! for $49.99 U.S.
LOTTY LADYBIRD DELUX PLAYMAT AND GYM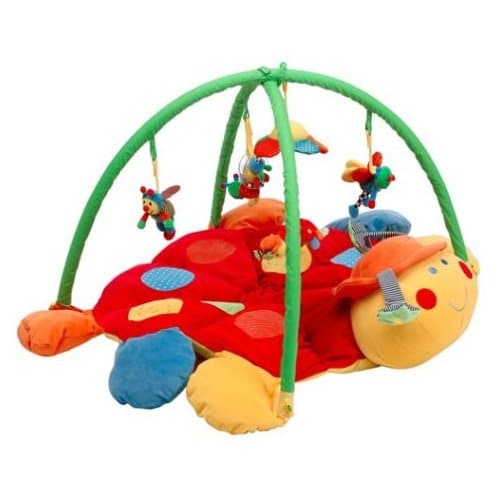 This playmat is different from the others because there is as much stuff going on. The thing I like about it is that it is comfy for the baby to lay in and watch the toys over head. Once your child gets older they may like to watch tv on the floor using this as a pillow. It is made of plush velour, has crinkly feet, detachable dangly toys, mirrors, rattles and chimes. Plays "Mary Had a Little Lamb" when the antenna is pressed. It is made by Mamas and Papas and is currently sold out at many on-line retailers. tadpoletoys.com was one of the only sites I found that said they had some available. $79.95 U.S.
MIRACLES & MILESTONES™ MAGICAL MOBILE™ GYM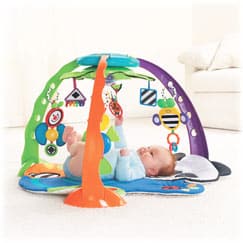 I love that this gym has a mobile. It gives you the oppurtunity to give the baby some free playing time without you having too always be moving the toys. The colours are bright and vibrant which will help keep the baby's attention longer. Your baby can lie on the comfy mat and gaze up at the mobile with its large-view mirror, moving toys and gently tracking lights. They offer just the right amount of early stimulation, with a combination of classical music and sung lullabies. For tummy-time fun, you can move the six toys down where baby can reach and grab them, prompting even more skills to develop! The soft, colorful panda mat is full of textures to encourage baby's tactile exploration, and there are lots of spaces to add more toys. Available at Fisherprice.comfor $55.00 U.S.
ACTIVITOT TROPICAL ISLE BY TINY LOVE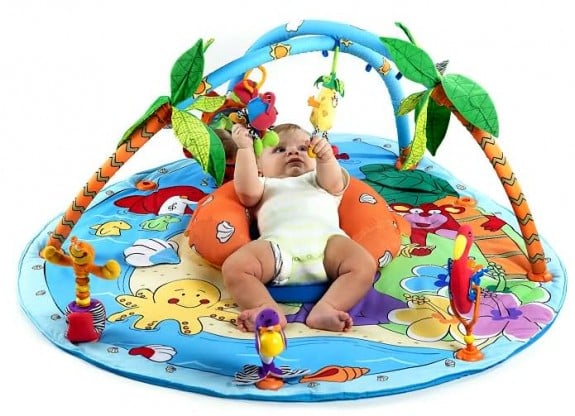 This mat is huge. If you have twins and you would like to encourage twin bonding this is the mat for you. The extra large mat features an Island like setting complete with palm trees. There are 3 Twist & Lock Vertical Toys, crinkly leaves and a honking horn. This is the first truly configurable developmental gym, with modular placement of pillow, toys and arches for multiple comfortable playing positions — on tummy, back, side or seated upright. The Gym features 17 fun developmental activities, including a special tummy-time pillow and unique vertical toys, provide baby with an endless variety of playing configurations and multiple comfortable playing positions. Available at ape2zebra.com for $99.99 cad
All of these play mats have different features. No two are the same. There are more on the market but they didn't seem to get the positive feedback these four got.
---
[ad]