When it comes to travel, having the best stroller in your arsenal is essential. Whether you're heading out to a theme park or off on an overseas adventure, lightweight strollers are the way to go. Not only are they great for road trips, but they fit into planes, trains, and automobiles more easily than bulky full-size models. Best of all, there are plenty of options available no matter your budget! Look out for those with compact fold and full recline capabilities, as well as generous canopies and the bonus feature of taking an infant seat attachment.
Visiting Disney
Because we always get asked – here is some information on the requirements for Disney.
Visiting Walt Disney World with small children can be made much easier with the use of a stroller. Strollers are not only helpful to keep your little ones close and comfortable while navigating the parks, they also allow you to bring items you may need throughout the day. However, if you're planning to bring along your own stroller, it's important to check Disney's guidelines before doing so as they have recently changed their requirements as far as maximum size and type of strollers allowed into their parks. Strollers must be no larger than 31" (79 cm) wide and 52" (132cm) long, and due to safety concerns stroller wagons are no longer allowed at Walt Disney World. Strollers must be in a folded position on Walt Disney World resort buses — which is how most guests travel between their hotels and the parks — as well as aboard parking lot trams. Strollers may remain open on the Walt Disney World Skyliner gondola system as well as within the Walt Disney World monorail, making mini-getaways throughout your day a breeze!
Investing in one of the best strollers for travel will make your trip go smoothly, without having to compromise on convenience or comfort.
These are the 10 Best Lightweight Travel Strollers For 2023!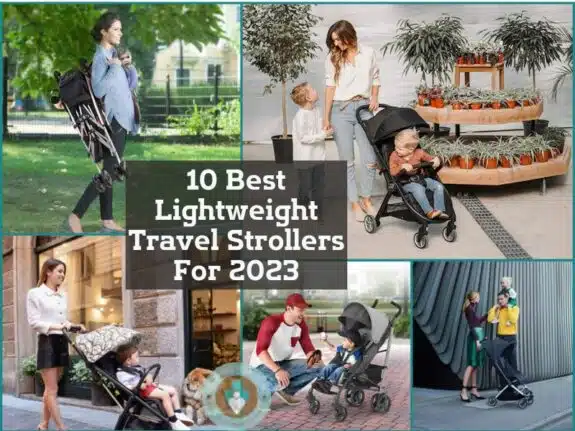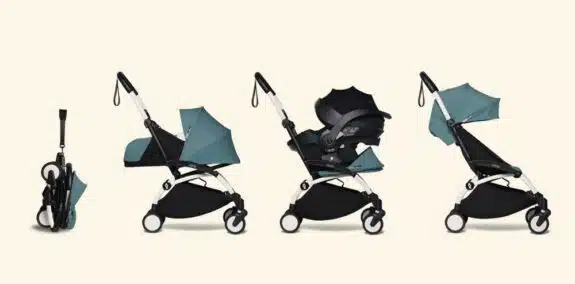 The BabyZen YoYo Stroller provides compact convenience with flexibility. This lightweight, compact stroller is designed for every situation so you can steer with one hand and carry it on your shoulder with ease. It is also amazing for traveling with its capability to fold and unfold with one hand and fit neatly into the overhead bin on a plane. Plus, the zippered back pocket lets you store those travel essentials!
The Yoyo2 comfortably accommodates the needs of your growing child from newborn to toddler, up to 48.5 pounds, thanks to its ability to accommodate a bassinet and car seat.
It also features a 5-point harness, reclining backrest, and seat cushion to provide safety and comfort during your day out. With the BabyZen YoYo Stroller, there's no denying that compact traveling has been made easy!
SPECS:
DIMENSIONS:22 x 18 x 8 inches
WEIGHT: 11.02 lbs
Up to 48.5lbs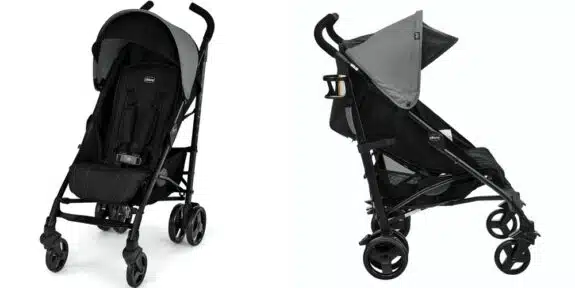 The Liteway® Stroller is a compact stroller for easy travel. Its lightweight aluminum frame has a convenient fold that makes it great for taking on the go. With an automatic storage latch, it quickly converts from an upright position to a compact folded package with one hand. A carry handle enables conscious portability, allowing you to take it wherever you need to go and easily store it when not in use. The backrest features four customizable positions, to create comfort for growing children at any age.
An adjustable and removable canopy provides shade from the sun, plus there is a peek-a-boo window for quick check-ins. The high-quality suspension keeps your little one comfortable no matter which surface you're traveling over, while toe-tap brakes ensure the stroller stays secure when parked. Lastly, padded handles, a cup holder, and a storage basket provide convenience and extra comfort while out and about with your child.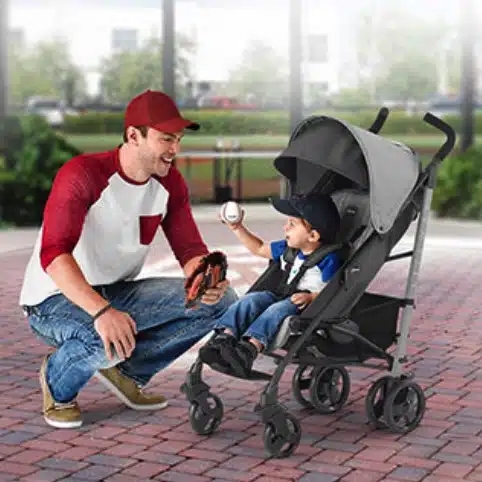 SPECS:
DIMENSIONS: 34.5 x 18.5 x 41 inches
WEIGHT: 17.2 pounds
UP to 40 Pounds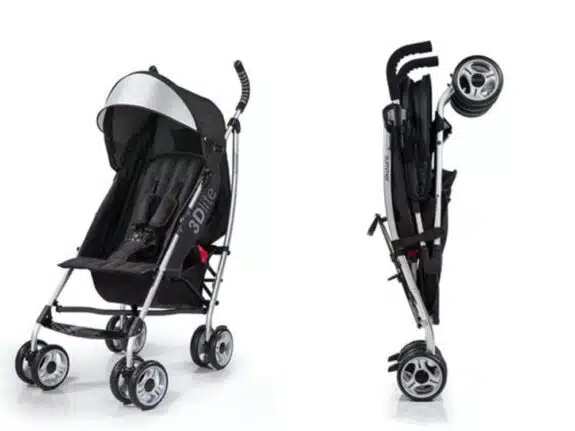 If you're looking for a compact stroller for travel, the 3Dlite® Stroller is a fantastic budget-conscious option. With its lightweight aluminum frame at only 13 lbs and a compact fold with an auto lock and carry strap, you can take this stroller anywhere you need to go with ease. Not only does it look great and provide a safe ride with its 5-point safety harness, but it also incorporates must-have features like an adjustable and removable canopy with flip-out sun visor, rear storage pocket, cup holder, anti-shock front wheels and lockable rear wheels. With 4 position recline and an extra large storage basket that's easy to access, this stroller is the perfect companion for any family on the go!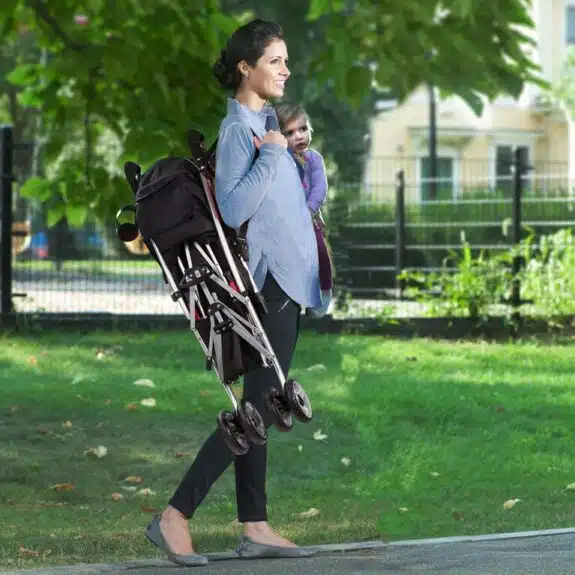 SPECS:
DIMENSIONS: 40.5 x 10.2 x 8.5 inches
WEIGHT: 13.0 lbs
UP to 50 pounds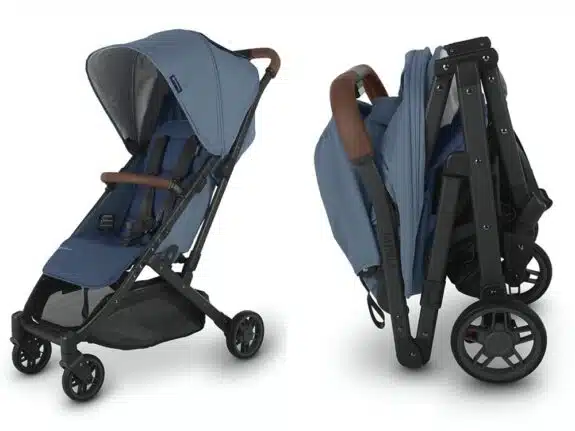 The next-generation MINU compact lightweight stroller is designed with both convenience and functionality in mind, making it ideal for travel. With features like the adjustable leg rest, shock-absorbing, all-wheel suspension, and leather bumper bar, it provides spacious seating up to 50lbs and zip out extendable canopy with UPF 50+ sun protection to protect your little one from the sun's harmful rays.
For easy storage, it has a spring-loaded fold latch and stands when folded complete with a carry handle or shoulder strap for true hands-free carry mode. Additionally, infant car seat and bassinet compatibility can be achieved simply by adding the required adapters. This compact stroller is forever evolving to provide essential features for everyday use no matter where your day takes you.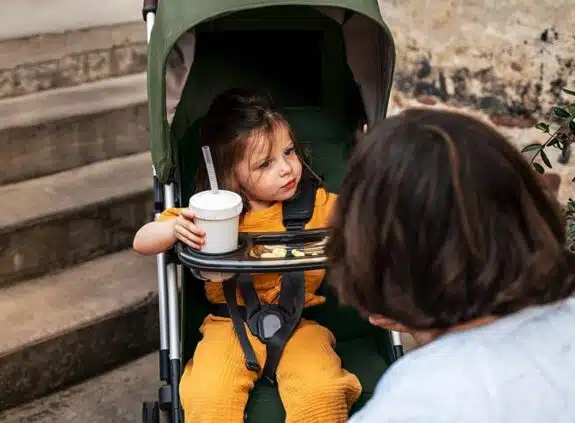 SPECS:
DIMENSIONS: 35.5″ L x 20.25″ W x 41″ H
WEIGHT: 16.9lbs
Suitable from 3 months to 50 lbs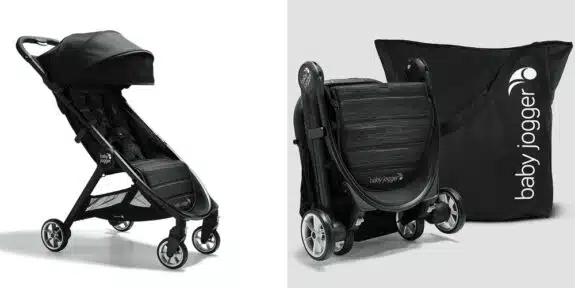 The Baby Jogger City Tour 2 is the perfect compact stroller for travel. It weighs an light 14 lb and easily folds up 85% smaller than when unfolded, making it fun and easy to take on adventures big or small. Best of all, the City Tour 2 doesn't sacrifice comfort or convenience; the padded seat allows babies to ride comfortably with adjustable calf support, a multiple recline position, a UV 50+ canopy, and added depth in the seat. The infant car seat connection also makes it possible to keep even the youngest of babies safe and secure while they travel with you(infant car seat sold separately).
And with plenty of available accessories (sold separately) to customize your stroller as you please, you can create a perfectly comfortable ride for your baby every time.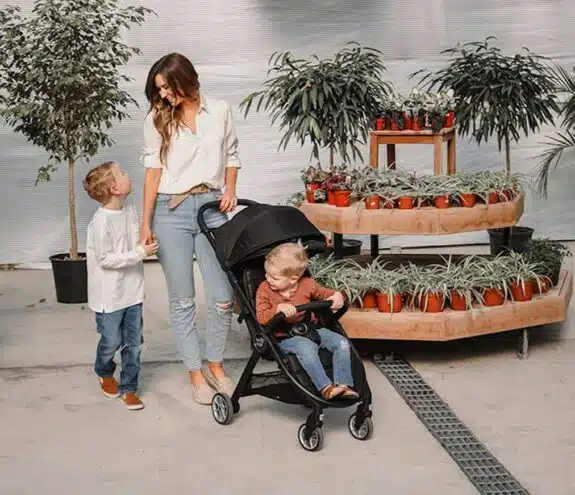 SPECS:
DIMENSIONS: 19.6″w x 39.5″ H inches
WEIGHT:14.3 lb
Supports children from birth up to 45 lb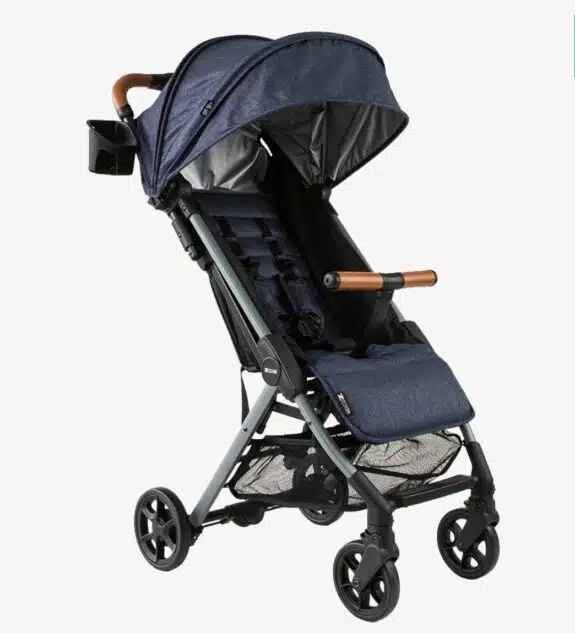 If you're looking for a compact stroller that is perfect for airports and weekend getaways, especially to the beach, then the Zoe Trip is your a great option. This stylish travel stroller weighs only 12.5 lbs making it light and easy to pack up tight and take with you. The four-panel expandable canopy helps block out the sun with UPF 50 lining while the adjustable footrest, leatherette handles, and 150-degree recline will make your little one comfortable throughout the journey. The Zoe Trip really has all of it when it comes to compact strollers for travel.
SPECS:
DIMENSIONS:40.25″ (height) x 17″ (width) x 28.5″ (depth)
WEIGHT: 12.5lbs
Designed for 3 months to 45 lbs
The Bugaboo Butterfly is the ultimate compact stroller for travels near and far. With its built-in comfort, effortless unfolding design, and ultra-compact size, you and your growing baby have the freedom to explore the world on everyday adventures. The four-panel sun canopy comes with an extendable breezy panel so your child can stay cool even when the temperatures are rising! Enjoy complete control by adjusting their position from 30° to 143° or any angle in between with one-handed reclining. While they lounge comfortably, the ride will be smooth with advanced 4-wheel suspension.
For extra convenience and storage, the big under-seat basket can hold up to 17.63 lbs of your things! And don't forget that you can easily hook up the most popular car seats (adapters sold separately) for a seamless transition from car to stroller.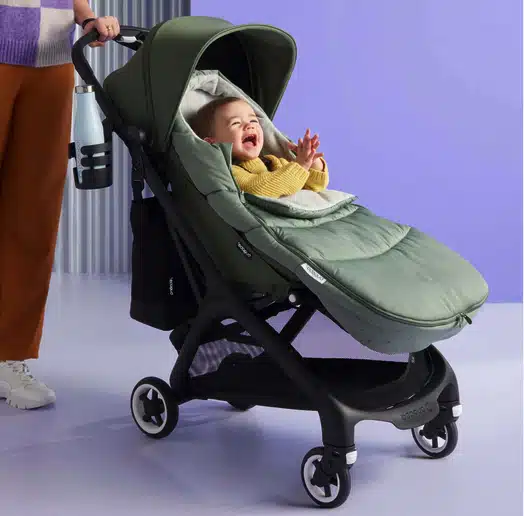 SPECS:
DIMENSIONS: 36.42 x 17.72 x 40.31 "
WEIGHT:15.21 lbs
Designed for 6 months and older (up to 22 kg/48.5 lbs).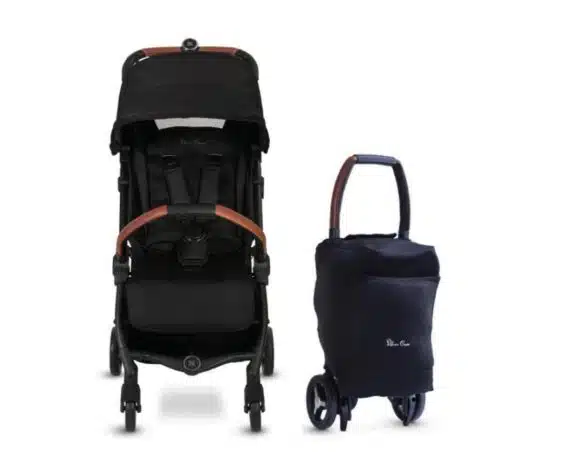 The lightweight Jet 3 travel stroller has everything you need to keep your baby comfortable and safe, no matter where the journey takes you. With its lightweight design, weighing in at only 13.6 lbs., this stroller offers both comfort and convenience.
Thanks to the fully extendable UPF50+ ventilated hood, your baby can stay cool, even on hot days. An adjustable handlebar lets you choose the height that's perfect for your own needs and a multi-position seat ensures everything is just right for your little one's comfort too. It also has a five-point harness and cushioning for maximum safety as well as an innovative Genius buckle for easy three-click fastenings that is child-proof with a simple squeeze to get out!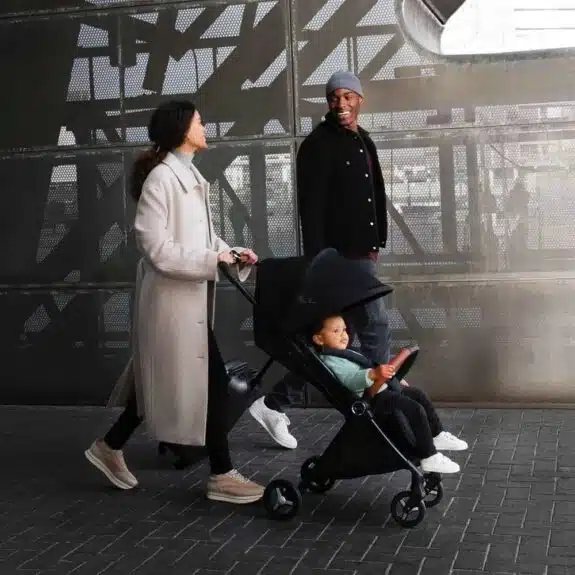 This lightweight travel stroller even comes with an under-seat storage basket that holds up to 11 lbs of gear and can be accessed from either side of the stroller – giving parents plenty of stylish solutions for life on the go!
SPECS:
DIMENSIONS:17.7″w x 35.43″d x 39.5″h
WEIGHT:13.6LBS
Holds Newborns-Children 55 Lbs.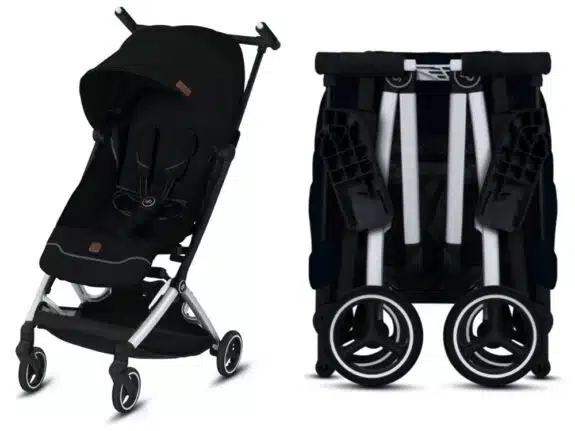 When it comes to city living with a child, the new Pockit+ All City compact stroller provides essential features that make life easier. Weighing only 10.6 lbs, the stroller is light and portable enough to take anywhere, and its ultra-compact folding mechanism makes the stroller a breeze to fit in any luggage or overhead bin. With easy rear-wheel parking brakes and front swivel wheels that can be locked, you can ensure your child's comfort over different terrains. The aluminum frame is accompanied by a breathable mesh fabric for superior comfort, while an adjustable safety harness with shoulder and heel protectors keeps them secured as well. There's even a front-facing seat and free-standing fold for added convenience when traveling. Best of all, adapters included in this 2-in-1 travel system let you attach any CYBEX infant car seat to the compact stroller for added ease. With so many key features available with the Pockit+ All City compact stroller, city life with your child just got easier!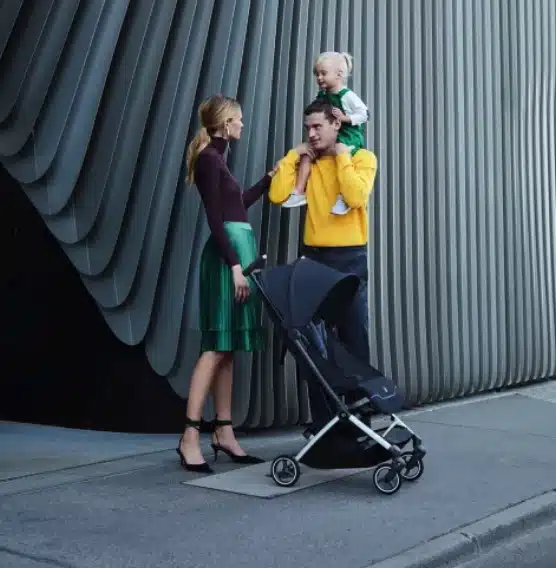 SPECS:
DIMENSIONS: 28.7 in x 20.3 in x 40.9 in
WEIGHT:13.2LBS
Up To 50lbs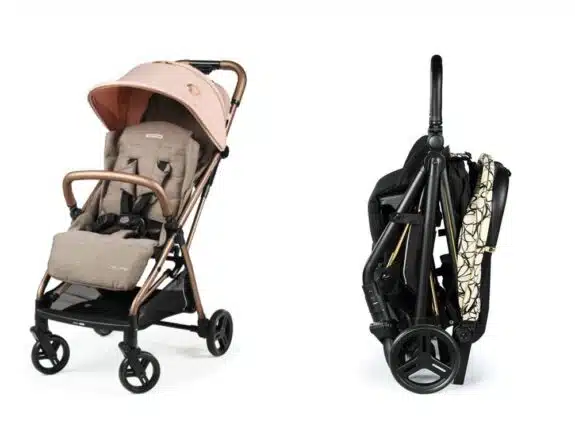 The Selfie stroller is a great option for new parents looking for a full featured travel stroller. This lightweight stroller folds on its own, automatically and compactly so it's a great choice for travel. It also features a one-handed backrest recline with a near-flat position, an easy drive system featuring ball-bearing wheels with suspension, an eco-leather handlebar, and a solid aluminum frame.
The large UPF 50+ hood canopy includes a zip fastening and the adjustable 5-point harness makes sure your baby is safe and secure while you stroll. It even makes it easy to transition from a traditional stroller to a travel system in seconds thanks to the adapter! The Selfie stroller leaves nothing to chance, providing both comfort and convenience for you and your little one.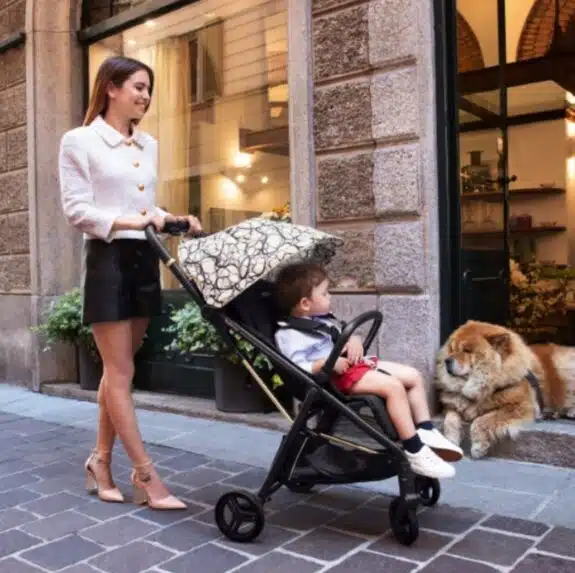 SPECS:
DIMENSIONS: 20″x42″x35″ inches
WEIGHT: 14lbs
Birth – 48 Ibs