Born at 26 weeks was difficult enough for Maci Van Riesen but what the baby girl also suffered from was a rare disorder that made it impossible for her to swallow food. From being a handful to fitting snugly in her mother's arms, this miracle baby has come a long way thanks to her doctors and BOTOX.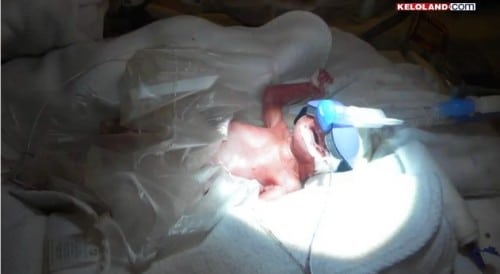 Janelle Van Riesen gave birth to Maci on November 8th three months before the baby was due.
"She was born at 26 weeks, weighing just a pound, six ounces," said the mother.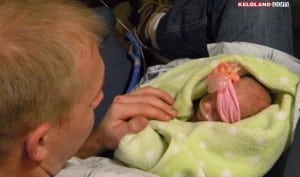 The parents knew that because of her extremely early birth, Maci would have complications that most preemies suffer from.
"We've been fortunate that we haven't had all the issues that premature babies have, perforated bowel, some swallowing issues, breathing issues," father Grant Van Riesen said.
She was admitted at the NICU at Sanford Hospital where for several weeks she was given oxygen. But as Maci succeeded in breathing on her own, she was not able to eat.
"When we first started trying the bottle she would gag a lot. So, they thought initially she had reflux," Janelle said.

"So, feedings with a normal baby there's no problems. But with her, it created problems. It caused her to gag and choke. She could not get all of the milk down that she needed," Grant said.
Sanford's Dr. Patrick Munson, who specializes in Pediatric Otolaryngology investigated further and found that the baby had a narrowing of the muscle that controls her ability to swallow. It is a very rare syndrome.
"How it was explained to us is it was one of 50 cases, possibly in the world," Grant said.

"I was terrified. You don't want your baby to be the experiment baby. I was really scared. But I was willing to try whatever we had to do to avoid, hopefully, maybe, the route of going to a feeding tube and going home on a feeding tube," Janelle said.
Munson then suggested a never-heard-before solution – Botox, a popular cosmetic drug often used to freeze wrinkles.
"Essentially, it's the same principle. What you're trying to do is paralyze the muscle so it can't be completely closed off. We selected three areas in the muscle to target that area," Munson said.
The procedure was done for the first time at Stanford and Munson says it was nerve-racking but also exciting.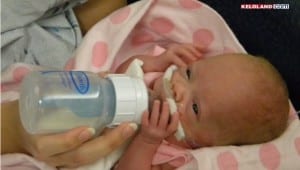 Maci can now sip easily from a bottle though Botox may wear off gradually and she may need more of the procedure until she is old enough to get a corrective surgery.
"If this doesn't work, the potential is there when she's a little bit older to actually have surgery on her esophagus, cut that muscle to relax it. We just don't know at this point," Grant said.
Since her birth in November Maci has spent 100 days in the NICU and slowly grown to a healthy 7 pounds.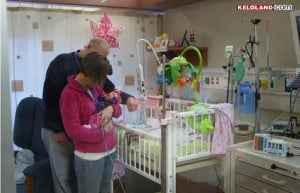 Her parents are thankful for all the care and support offered at the hospital.
"It's hard, it's really tough. I wouldn't not be here with her. I'm ready to go home and take her home with us," Janelle said.

"It's tough, quite a few rough days, it's long. We're ready to go home," Grant said.
Maci is now at home, bringing lots of joys to her family.
---
Related Articles:
---