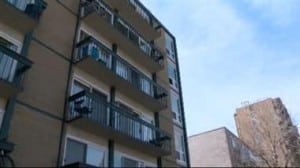 A Calgary baby is alive but in serious condition after falling five storeys from an apartment building on Sunday morning.
Neighbour Sheyelle Welker said she was watching a movie on her laptop when she heard a loud "popping" noise from outside.
"I heard the screen popping out of the frame and I heard her fall," the Calgary woman said. "I ran out to the balcony and immediately see the little kid laying on the ground screaming … the kid was covered in blood … my stomach was just turning."
Police believe the two-year-old girl was leaning on the screen of an open window when it suddenly collapsed causing her to fall the ground.
"It's mind-blowing how quickly it happened, the screen popping and then the kid falling out," said Welker, who lives in apartment next door. "Then next thing I heard was a man on the street yelling, 'Call 911.' "
When Sheyelle's roommate, Cassi Stevens, joined her on the balcony  child's mother rushing outside.
"I can only imagine what she was thinking. She was screaming," Stevens said. "The baby was just lying there … it's not something you'd ever want to see."
Det. Rob Patterson said the toddler suffered a lacerated liver, a fractured skull, a collapsed lung and major facial and head injuries after falling from a window.
Paramedics arrived quickly after her fall and the toddler was transported to Alberta Children's Hospital in critical condition. This evening her condition was upgraded to serious but stable.
Police said they believe the child was alone in the room at the time,
"We don't know how the child managed to get up to the window," said duty inspector Chris Butler, who added that no charges will be laid against the parents.

"There was no negligence involved, there was no intent involved. This is just a tragic accident that we wouldn't obviously wish this upon anybody. It's a parent's worst nightmare to go through this."
We have written about this exact type of incident so many times in the last 6 months.  It is rarely caused neglect but by an overly enthusiastic child. Last year safety experts warned that windows are not designed to contain children if they fall – closed, screened or open. Furniture should not be against the window because of accidental loss of balance. Window stops and opening the top of double-hung windows are all recommended to help avoid child falls.
---
[ad]