Charlotte Church and boyfriend Gavin Henson Introduce their new baby Ruby in this weeks issue of OK Magazine.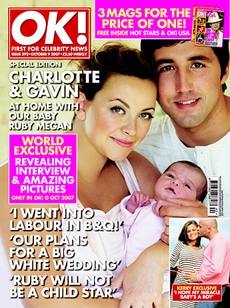 The baby was delivered in a birthing pool in the singer's country home outside of Cardiff.
Charlotte told OK! magazine she was shopping with Gavin when she started to go into labour.
"[Gavin] accidentally locked me in the car and the alarm was going off, so people were coming out of B&Q hearing the alarm and looking at the car, and then seeing it's Charlotte Church in there."I was just trying to hide but couldn't – just sitting there having contractions! I wanted to go for a meal in the Toby Carvery but the contractions were every five minutes so we came back."
The couple was able to make it back to their home where Ruby was born weighing 6lbs 12ozs.
The star was on 'gas and air' during the birth so so couldn't really concentrate, but after she was born she said:
"I'm really shocked by how I feel. It's just instant massive amounts of love towards her."
Charlotte has said that she is co-sleeping with the baby and that is not sitting well with Cot Death Charity Foundation for the Study of Infant Deaths.
They want her to know that she is putting her little baby daughter Ruby's life at risk by making her sleep in bed with her.
"When we heard Charlotte was sharing a bed with her baby, we wanted to make sure she was making an informed decision about the risks,' the Mirror quoted the association's director Joyce Epstein, as saying.

"We supplied her with the relevant information. All our advice is based on proven research and it's important that parents are aware of the risks,' he added.

However, Church insists that it is just instinctive that she won't roll.

"Gavin was worried about me rolling over and smothering her but I think it's instinctive I wouldn't,' she said.
---
[ad]