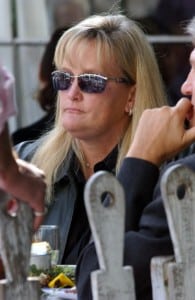 UPDATE: A possible flip-flop? In a telephone news conference Debbie Rowe's attorney Eric M. George said,

"So why today's announcement? Because though Debbie herself had not spoken publically about the custody proceedings since Michael's death, I came to learn this morning that she shared some of her thoughts late last night with a local reporter."
"I have no reason to doubt what was reported from that conversation was accurately and ethically reported.

"But that said, it would be a distortion of the truth to allow that single snapshot of a single conversation to stand as the truth of Debbie's position on these sensitive matters.
"So once again, the truth is that Debbie has not reached a final decision," George said.
Originally reported: Michael Jackson's ex-wife has broken her silence.
During a 90-minute phone conversation Thursday morning with NBCLA, Debbie Rowe, ex-wife of Michael Jackson, has stated she wants her children.
"I am stepping up," she said. "I have to."
"We had an agreement… he didn't keep his end," Rowe said, referring to Jackson's death.
She also said she would seek a restraining order to keep Jackson's father, Joe Jackson, away from the children.
Michael Jackson, 50, who died unexpectedly last week, left behind three children: son Michael Joseph Jr., known as Prince Michael, 12; daughter Paris Michael Katherine, 11; and son Prince Michael II, 7.
While Debbie is believed to be the mother of the two oldest children, reports surfaced this week that neither Michael or Debbie are the biological parents. These same reports suggest that Debbie was merely a surrogate.
It is known that the youngest, Prince Michael II, was born to a surrogate mother, who has never been identified.
Rowe said she was concerned about splitting up the children. She said she did not expect the court to grant custody of the third child, but added that she would be willing to accept custody.
Rowe, who was married to Jackson in 1996 and filed for divorce three years later, surrendered her parental rights. An appeals court later found that was done in error, and Rowe and Jackson entered an out-of-court settlement in 2006.
In her testimony eight years ago, Rowe said,
"I had the children for him. They wouldn't be on this planet if it wasn't for my love for him. I did it for him to become a father, not for me to become a mother. You earn the title 'parent." I have done absolutely nothing to earn that title."
Earlier this week, Jackson's mother was appointed temporary guardian of the children, pending a hearing on Monday. A will signed by Jackson in 2002 and filed with the court Wednesday requests that Katherine Jackson be named guardian of the children, but in the event of her death, he asked that singer Diana Ross be appointed.
The will also specifically leaves Rowe out of any inheritance.
"I have intentionally omitted to provide for my former wife, Deborah Jean Rowe Jackson," the will states.
Debbie's attorney, Eric George, told the Los Angeles Times that he will be at the custody hearing Monday to represent her. Today, it was reported that the hearing has been postponed until July 13, according to the Superior Court's public information office. A hearing will still be held Monday to discuss issues regarding the administration of Jackson's estate.
---