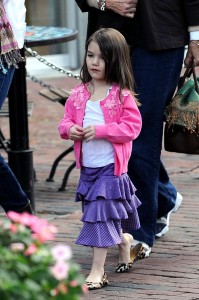 High priced designer clothing used to be for adults only. However, more and more children are seen strutting in clothing costing hundreds of dollars. And it is not just the celebrity children doing it either.
Celebrities such as Tom Cruise and Gwen Stefani are expected to walk down the red carpet in couture, yet their children have also become fashion icons as well. Four-year-old Suri Cruise has a wardrobe that is reportedly worth well over £1 million. The tiny diva can frequently be seen walking down the sidewalk in designer clothes and heels. Three-year-old Kingston Rossdale has been photographed playing in luxury labels normally sold to adults with expensive taste.
Yet it is not just celebrities getting into the act. As these mini-fashion idols set trends even ordinary parents are shelling out big bucks to see their children dressed up.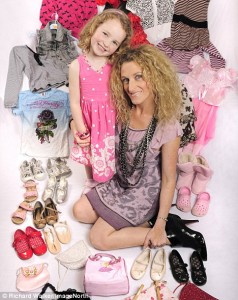 Danielle Watson, a 37 mother of one, who works in fashion PR and marketing and is married to a builder, spends almost $1500 per year on her daughter's wardrobe. This includes a one of a kind pink Dior shirt made to copy a similar one Sarah Jessica Parker recently wore. Despite being four-years-old, the girl already knows how to put together an outfit with matching pumps.
"Many people seem to think when little girls dress like this, they are influenced by their mums. But Tallulah is always looking through fashion magazines and watching TV to pick up ideas herself," said Watson.
She is not alone. Thirty-two-year-old mother Sara Weightman says that her toddler daughter already has 20 pairs of shoes, many of them only worn a handful of times.
She had a lovely pair of faux suede boots but by the time her feet had grown into them, it was the summertime,' recalls Sara. 'Then I had sandals that she'd grown out of before it got to the summer.

'There were also some red satin shoes I bought her to crawl in – only again they didn't really go with anything so she only wore them a handful of times.

'The pairs of Puma and Adidas trainers I bought her when she was six months old have only been worn once. The trainers were so pretty I had to have them but then I realised they would only look good with jeans and I prefer Acacia to wear a dress.'
Weightman feels that teaching her daughter to dress well, including lavish dresses and shoes, will encourage her to do well in her life. Despite the girl being only 2-years-old, the girl wears matching outfits everyday.
Of course, it is not just daughters who get the high priced treatment. Sophie Vickers, a 23-year-old administrator from Tyne and Wear, has spent over $29,000 on her 19-month-old son. The small boy owns an impressive wardrobe containing more than 40 pairs of pants, more than 40 pairs of shorts, more than 40 t-shirts, and assorted other items such as leather jackets and ties.
I'd bought him 80 pairs of shoes before he could walk,' she admits. 'At three months I found out during a routine scan I was having a boy and went straight out and bought him a pair of Timberland boots. They cost £55 and he has never worn them but I couldn't resist them.'
Despite a monthly income of only £500 ($728), Vickers has managed to spend thousands of dollars to keep her son in high style. This includes four different name brand strollers.
'I spent £400 for the first one, which is good for wet weather, and £195 for the second, a three-wheeler which I just had to have because everyone was buying them, and a third for £100 from Fenwick, which is my favourite. I've since bought a fourth to take on holiday as I don't want my favourite one damaged in the aeroplane cargo hold.'
The growing love of designer clothes for children is fueling clothing designers to look smaller. Designer Marc Jacobs has created a children's line of clothing which includes cashmere hoodies, priced at £250. Designer, and daughter of the former Beetle, Stella McCartney has also introduced to two collaboration collections with GapKids. A trend that is seeing more stores selling children's clothing that mimics the fashion conscious looks marketed to their parents.
According to Kate Liszka, head of childrenswear at Debenhams: 'The amount of money some parents are willing to spend on kitting out their kids in the latest catwalk fashions would pay for a family holiday.'
Many of the parents following this trend feel that indulging the expensive tastes is not a problem at all. As long as the trend continues, designers and stores will continue marketing these adult-like styles to younger and younger children. But will you buy? – Summer, staff writer
Related Articles:
---
[ad]