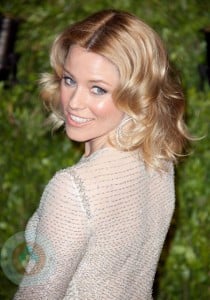 Congratulation to Elizabeth Banks and her husband Max Handelman.  The couple are now the proud parents of a new arrival – a son. The actress announced the news of the birth of Felix on her blog on Wednesday.
No information has been given about the arrival at this time other than the baby's first name and that he was born by a gestational surrogate. Elizabeth spoke about her struggles with infertility, which ultimately led her to surrogacy saying,
"The one true hurdle I've faced in life is that I have a broken belly. After years of trying to get pregnant, exploring the range of fertility treatments, all unsuccessful, our journey led us to gestational surrogacy."
It was from that decision that she describes two miracles in her life:
"Meeting our carrier and her husband who were truly humbling in their decency and generosity. And the second miracle was the birth of our baby boy, Felix Handelman. Felix means 'happy' and 'lucky' in Latin. And true to his name, Felix is a very happy baby and a blessing on our life."
The 30 Rock star couldn't sound happier at the arrival of Felix, even with the dirty diapers and lack of sleep.
Related Articles:
---
[ad]