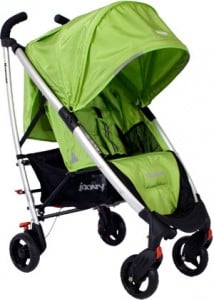 The Joovy Kooper is a nice little stroller with some fun features. I recently tested this sturdy umbrella stroller out and my son really enjoyed the ride. I found it easy to use and loved all of the great details, like parent cup holders and a great canopy. The Kooper retails for $179.00, a great price for such a solid stroller with a great set of features and attention to detail.

Assembly
Assembly is quick and easy, pop on the wheels and canopy. That's it. The manual is detailed, easy to read and contains everything you need to know.
Features
The Kooper is compact, weighing in at just under 18 pounds, folds easily with one hand, has linked rear brakes and a sturdy aluminum frame. The canopy is very generous, has a pop out sun visor and allows for quite a bit of headroom to go with its 50 pound weight limit, great for an umbrella stroller. Storage is also great with a well sized basket, zippered pockets and 2 cup holders in the canopy. My favorite feature,  2 mesh pockets inside the seat, great for drinks, snacks or toys. The Kooper also offers 4 wheel suspension and lockable front wheels. A rain cover and travel bag are available as options.
In Use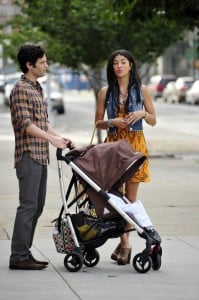 I tested the Kooper with my 23 month old son. He's only around 25 pounds, but tall. He fit well in the seat with plenty of room to spare. The harness adjusted well for him, even though he's skinny and floats in many harnesses. The reflective accents on the harness and stroller are a nice touch. He loved the 2 in-seat pockets. We kept them loaded up with toys and snacks and he loved that he had easy access whenever he was in the stroller. The 2 padded handles are comfortable and at a nice height. It was comfortable for both my husband and myself to push the Kooper.  Having the suspension is nice too as it helps even out the bumpy sidewalks. Occasionally, it did feel a bit sluggish on the tighter turns, but overall it felt quite smooth and did maneuver well on crowded sidewalks. The seat is rated for 6 months and up and my son found it very comfortable. The 2 position recline is very easy up and down and great for older children who might still fall asleep in the stroller, but still has enough of a recline for older infants who are more likely to need to sleep in the stroller. It's not meant for a newborn, but it's more than sufficient for naps. Because it's an "infinite" recline you can position it anywhere between all the way up or down and find the perfect spot for your child.
Storage is terrific on the Kooper. We could fit plenty in the basket and it was easy to access, plus the pockets and drink holders in the canopy were really convenient. The drink holders do have velcro on the tops, so they could easily double as key or cell phone pockets or for small items that need quick access, like a pacifier. The stroller is very easy to fold and is fairly compact when folded, easy to store in the car or closet at home. Also this would be a great travel stroller, especially for an older child with the high weight limit. The Kooper feels quite substantial for an umbrella stroller, very solid and sturdy. The colors are great too. Offered in red, black, a nice bright  yellow (Lemontree) and my two favorites, a really gorgeous & stylish brown (Brownie) and green (Appletree). -Kiersten, Staff Writer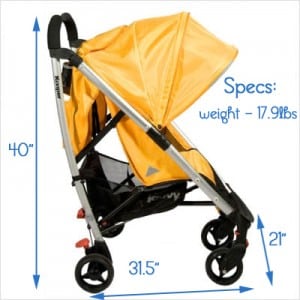 Likes:
Colors- I love the Brownie & Appletree
2 mesh pockets in seat, especially, but great storage options overall
High weight limit of 50 pounds
Linked brake
Comfy handles and sturdy frame
Dislikes:
Included rain cover would be nice
Occasionally, the steering felt a bit sluggish, but it did offer a smooth ride.
Specifications:
Folded: H 13"  W13.5"   D 45"
*Thank you to Joovy for sending us this stroller to review*
---