Baby Gear giant Fisher-Price has introduced a great piece of gear for the practical parent. The 4-in-1 EZ Bundle is a revolutionary new space-saving that gives you 4 baby essentials in one!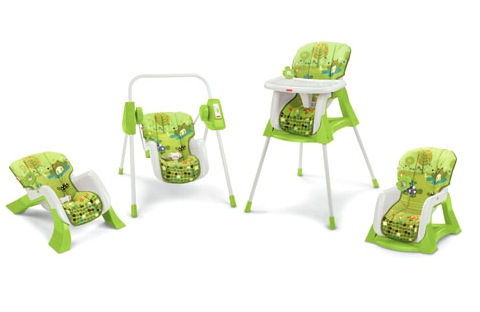 Start with one seat, then snap it into the infant seat frame, the swing frame, the high chair frame or the toddler seat frame. So easy to switch—and everything you need is included
With a weight limit of 50lbs, the main seat, which is covered in a comfy stain-resistant seat pad, moves easily onto the 4 frames to accommodate a child from birth to 4 years old.
Specs:
The High Chair features a 5-point harness and is perfect for use from Approx. 6-24 Months
The Swing, which is for infants 0-6months (up to 25lbs) has 6-speeds and a 3-point restraint.
The Newborn Seat has a 3-point restraint and is for babies aged Approx. 0-6 Months up to 25 lbs or until your child is able to sit up unassisted.
The Toddler seat will hold your child starting at 18 months toddlers up to 50 lbs.
Related Articles: 
---
[ad]