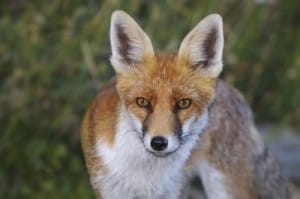 Foxes have always been night predators. In the olden days, they snuck onto farms and snatched up unsuspecting chickens. But these sly and stealthy creatures have recently ventured into cities. Recently, they've snatched up a new form of prey – one that may very well strike fear in the hearts of parents everywhere.
Earlier this week, a fox snuck into a London home and snatched up a four-week-old infant. The baby's mother told the Daily Mail that she'd heard a piercing scream and a heavy thud coming from her son's bedroom. When she went into his room to find out what had made the noise, she found the fox with her son's hand "halfway down the animal's throat." She said she had to kick the fox to get it to release her son's arm. She then called emergency personnel.
"We were called at 3:50pm to an address on Bromley," a London Ambulance Service spokesman told The Mail. "We sent an ambulance crew and a member of staff in a response car. A baby was treated and taken to hospital."
According to The Mail, the newborn suffered a serious injury to his finger that required surgery. This information was confirmed by a Metropolitan Police spokesman.
"We were called at 1638 on Wednesday 6 February by staff at St. Thomas's Hospital to report a baby boy who had been admitted to hospital after being attacked by a fox," the spokesman told The Mail. "Police attended to find a four-week-old baby with a hand injury. The baby was admitted to hospital after the attack at its home address in Bromley. Inquiries continue."
After the attack, pest controllers set traps for the fox in the back garden. Once caught, it was put down humanely by a vet. It is suspected that the fox found its way into the house through an open back door, and this particular attack is thought to the worst attack reported in London since 2010, when twin baby girls were mauled by a fox in their family home.
Like the most recent incident, a patio door had been left open. Barbeque leftovers had been left on the kitchen table and the twins' parents, Nick and Pauline, had gone to watch television after putting their daughters to bed in separate cots. Shortly before 10am, Nick went upstairs and found his twins bleeding and a fox in their bedroom.
With these two severe incidents now frightening parents all across London, numerous calls have been made to councils to do more to control the city's growing fox population. Boris Johnson, the Mayor of London, told the Mail that his thoughts are with the newborn baby and his family. He agrees that something needs to be done about the fox population increase.
"My thoughts are with the baby boy and his family. Thankfully this sort of attack, though terrible, is rare, but we must do more to tackle the growing problem of urban foxes," Johnson said. "They may appear cuddly and romantic but foxes are also a pest and a menace, particularly in our cities. This must serve as a wake-up call to London's borough leaders, who are responsible for pest control. They must come together, study the data, try to understand why this is becoming such a problem and act quickly to sort it out."
However, the RSPCA pointed out that incidents like this are rare. They say that foxes generally attack humans out of fear.
"It is extremely unusual for foxes to attack young children or anyone," and RSPCA spokeswoman told The Mail. "It's not typical fox behavior at all. Foxes will come closer to a house if there are food sources. Then they can become quite bold, but they usually do back off and run away when there's people around."
Chris Packham, a wildlife presenter, believes it is the availability of food and trash within the city limits is exactly what has drawn the foxes in and made them bolder.
"If you want fewer foxes in town, then don't cull them, but stop getting people to throw food on the ground, and into bins, because that's what's helping their numbers rise," Packham said told The Mail.
---
[ad]