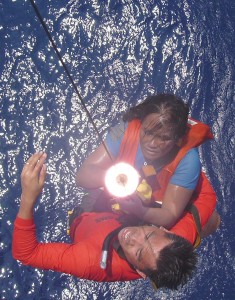 A Philippine air force helicopter plucked a very lucky woman to safety yesterday after she drifted for about 30 hours in choppy seas.
The miracle survivor, housewife Lita Casunlum, 39, was found bobbing with a life jacket on about 8 miles from where the 7,269-ton Superferry 9 she was aboard sank on Sunday.
Lita told news crews that she, her husband, Pepito, seven-year-old son, Christopher, and a teenaged nephew were separated after she was forced to jump into the sea because the life raft was already full.
"She has been drifting amid huge waves for a long time without any food or water," Rear Admiral Alex Pama said.

Although she was weak and could hardly speak due to a sore throat, Casumlum was upbeat and joked with reporters in a military hospital in southern Zamboanga city, telling them she had lost money at sea but found two small crabs in her pocket after her rescue.

"I just prayed. I thought of my family," she said.

Officials said yesterday that the successful rescue effort this time was largely due to help given by two passing cargo ships and military bomber planes and gunboats which are used to fight al Qaeda-linked militants and are based about 43 miles away from where the ferry sank.

Capt. Jose Yap, who was among the survivors, issued the "abandon ship" order at 4:40 a.m. (2040GMT) after the ferry started listing. The vessel, built in 1986 in Japan, sank six hours later, the coast guard said.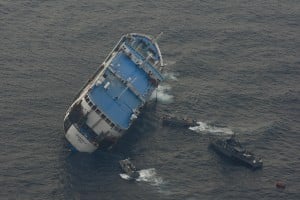 According to witnesses, panicked passengers leapt into the dark sea and parents dropped children into life rafts bobbing in the choppy sea.
When military assets arrived there were people floating everywhere. The searched a three mile radius of the sunken ferry for survivors. Lita was rescued 8 miles from the vessel.
---
[ad]