Congratulations to Marissa Jaret Winokur, of Dancing with the Stars, and her husband, comedy writer Judah Miller on the safe arrival of their first baby.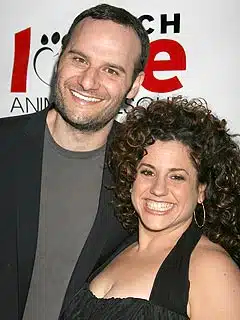 Zev Isaac Miller(his name means wolf in Hebrew) arrived Tuesday weighing 8 lbs., 7 oz. and measuring 21 inches long.
Marissa and Judah helped deliver the baby, who was carried to term by a surrogate mother.
"He is so perfect," the new mom, 35, said on Thursday. "My little miracle baby is here, and I can't believe it. I'd say he's got a Winokur face and a Miller body."
"One minute I'm totally fine, and the next minute I'm overwhelmed with emotion," a teary-eyed Marissa said. "I can't believe I am sitting here next to my baby. This is the one thing that's been missing from our lives. Now our house is really going to be a home."
---