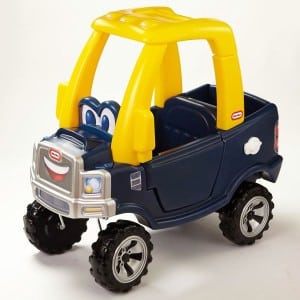 For 30 years the Cozy Coup has been a staple in almost every household of my family and friends with children.  The colorful little car has provided hours of entertainment and fun for children for years.  Now, Cozy Coup creator, Little Tikes, has continued its tradition of creating fun, quality, imaginative play toys and is proud to introduce you to the Cozy Truck.
This roomy pick-up truck ride-on is perfect for kids who like to play hard.
Out of the box, the Cozy Truck comes in several pieces and does require a screwdriver or drill  (if you have access to one, it helps a lot) for assembly.  All of the pieces went together smoothly and the instructions were very easy to read and follow.  The entire assembly should take you about 30 minutes to complete.
We have always loved Little Tikes toys. Their style and durability make their price well worth the investment. The Cozy Truck didn't disappoint.  It is very well constructed and you'll find it's a little larger and taller than the Cozy Coup making it a bonus for parents because you don't have to bend over as much to push your wee one around.  The Cozy Truck roof also has a convenient slot that parents can use as a handle making the pushing a little easier.
The Cozy truck features a roomy interior with a flatbed and drop-down tailgate.  For younger children, you can install the floorboard so that their feet don't touch the ground and remove it when they are a little older so that they can maneuver the truck on their own. Other features include rugged "off-road" wheels, a moving steering wheel with working horn, a gas cap that opens and closes and a driver's side door that opens and closes.  My son loves the moving steering wheel as well as the fact that he can open and close the doors – he's still fairly young and hasn't quite managed to figure out how all the features work or how much control he has over the truck yet.
Feature Details:
Includes flatbed with a drop-down tailgate
Includes rugged "off-road" wheels
Working gas cap opens and closes
Steering wheel with a working horn
Distinctive truck styling with a realistic front grill
Driver's door opens and closes
Easy assembly
Weight limit up to 50 lbs
From a functionality standpoint, the Cozy Truck is rated for ages 1 ½ to 5 (up to 50lbs) making it the perfect toy to grow with your child and an excellent investment.  It's quickly become a favorite in my house, and I love seeing how excited my son gets when I bring it out for him to play with.
---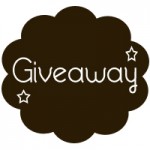 GIVEAWAY:Little Tikes is offering ONE Growing Your Baby reader the opportunity to win a Cozy Truck (valued at $79.99)
Congratulations to our winner: Ann