Melissa George showed off her growing belly while walking the red carpet at the CFDA/ VOGUE Fashion Fund Awards in NYC on Tuesday Night.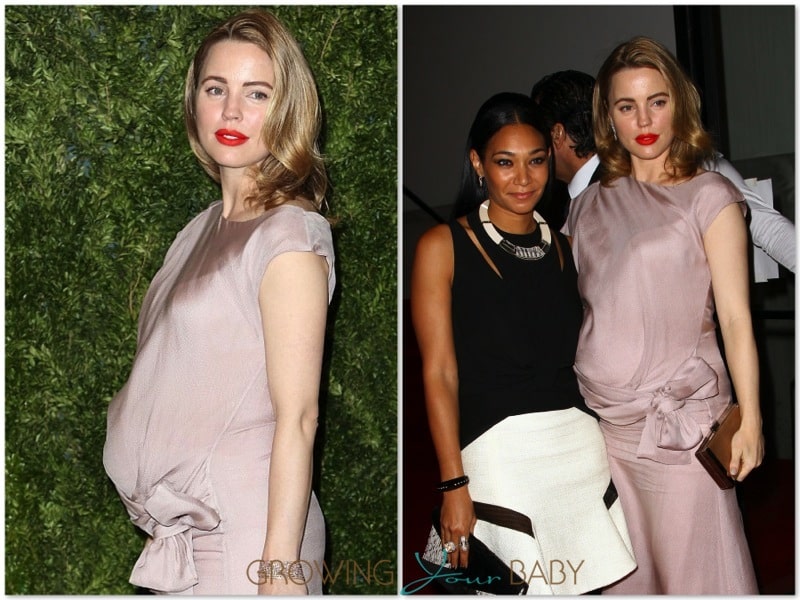 Due this Winter with her first child, the Australian born actress was pretty in a pink satin gown with a perfectly placed sash and bow that accentuated her changing shape.
Melissa recently spoke to OK Magazine about her excitement to be a mom,
'This baby is very wanted and very much what we've(she and boyfriend Jean-David Blanc) been waiting for.'

'It's no secret that I've always wanted to be a mother, and every time I had a birthday I would just be a little bit sad,' she revealed, noting. 'You don't mind clicking over another number when you've got something inside you, growing, that you've always dreamed about.'
The couple knows the baby's gender but isn't sharing.  Melissa did, however, tell the magazine there were a lot of factors going into deciding what the baby's name will be.
'I'm really into old cinema and all that, but it's such a joint decision. Mine are going to be all bohemian and they're probably not going to fly, but the most important thing for me is that it works in both cultures. It's going to have a huge Australian influence and I want the name to work in my native country. But the baby has a French daddy so it's going to have to work there, too. There'll be lots of middle names!'
{INFPHOTO.COM, SPLASH}
---
[ad]