A pregnant Reese Witherspoon was photographed filming scenes from her latest movie, 'Devil's Knot' in Atlanta, GA on Saturday.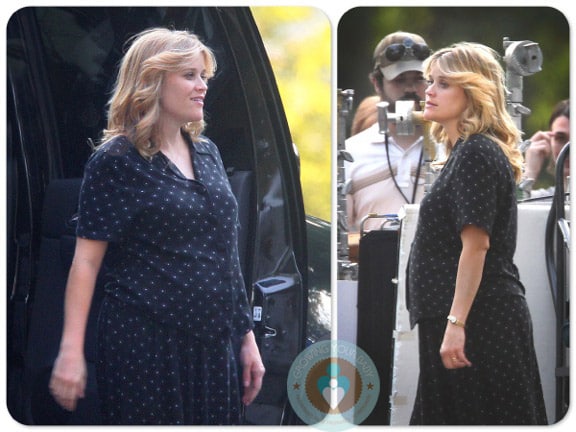 Even though she is about 7 months pregnant, the actress has been very busy with work commitments. Last week she was in Chicago for "An Evening With Reese Witherspoon," and to receive the Renaissance Award at the annual summer gala at the Ritz-Carlton Chicago.
During her acceptance speech Reese finally acknowledged that she was expecting saying, "Thanks, but frankly I'm feeling very round tonight."
While the actress politely refused to reveal the sex of her third child she did say she's "very excited" about the new baby, who is expected to arrive in late summer or early fall.
Her new movie "is about a crime that occurred in 1993," she said.
"It happened in Arkansas, and it's what I'd say is a very American story.

"And, after I finish that, I'm going to take a little time off — and go have a baby," Witherspoon she finished with a wink.
---
{FAME/FLYNET}
SOURCE
---
[ad]