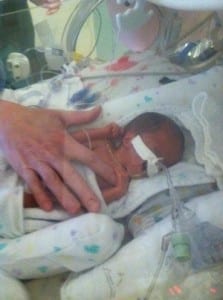 There isn't much in the world more depressing and gut-wrenching than discovering that you have cancer – except being pregnant and discovering that you have cancer.
Jacqui Graf was 26 weeks when intense pains sent her to the hospital. After being airlifted from Spearfish to Avera McKennan in Sioux Falls, Jacqui was told that she had a large mass in her abdominal area.
Originally, the medical team diagnosed her with ovarian cancer. Doctors opted for surgery and removed one of her ovaries, part of her colon and a portion of the tumor. But four days later, Jacqui would receive news that would force her to make one of the most difficult decisions of her life.
Jacqui has an aggressive form of lymphoma – Burkitt's lymphoma, a non-Hodgkin lymphoma that is most often seen in children and young adults. It grows extremely fast.
"It can triple in five days," stated Graf's mother, Cindy Poulain. "It was a month ago, she had an ultrasound. Everything looked normal. Within a month, it was a huge mass."
Doctors told Jacqui and her husband, Paul Graf, that their daughter was not ready to be born and she might not make it if she were delivered. Without treatment, however, Jacqui would probably die from the rapid-spreading cancer.
Already mother of two, Jacqui, fought with her decision. At first, she wanted to save the daughter she was carrying.
"Of course, she wanted to save the baby," Cindy said. "But we told her, 'You have two kids right now who need their mother too.'"
So, with that thought, Jacqui delivered her daughter, Haylee Renee, at 26 weeks, weighing in at just 1 pound, 13 ounces.
Just two days after the delivery, Jacqui started her chemotherapy treatments. No one knows how long the treatments will take.
"It's very scary," Cindy said. "She's 22 years old. She's so young to be going through this."
But Cindy says that Jacqui, who is the youngest of her four children, has come to terms with her situation.
"She said, 'Mom, if I don't make it, there's a reason for it, and I accept it," Cindy stated.
The new grandma, however, refuses to accept the thought of her daughter not making it.
"I said I don't accept it. No way," Cindy shared. "She's my baby. I'm really believing she's going to get through this. She's a strong girl, she's young, she's had a few wrenches thrown in, but she's in an excellent place with excellent doctors."
And while her mother fights cancer, little Haylee is putting up her own fight. Doctors say that she is doing as well as could be expected, given her prematurity. She is receiving round-the-clock prenatal care and a video camera has been set up in the neonatal unit so that Jacqui can watch over Haylee during her cancer treatments.
Cindy says she is optimistic about Haylee's chances of survival and development and that her biggest concern, right now, is her daughter, Jacqui.
"I know Haylee's going to make it through and do real good too. My main concern is getting Jacqui through this physical and mentally," Cindy said.
Cindy and her husband, Greg, had to return to their business, but Jacqui and little Haylee have the company of Paul, Jacqui's husband.
"It killed me to leave," Cindy said. "But Paul is there with his wife and baby. He's been so amazing and supportive. When I get weepy, he offers me tough love, and when he gets weepy, I offer him tough love…This is the sort of thing that always happens to someone else."
Related Articles:
Photo VIA RapidCityJournal
---