Ann Sinnott breastfed her daughter until she was 6-years-old then went on to write a book about breastfeeding older children.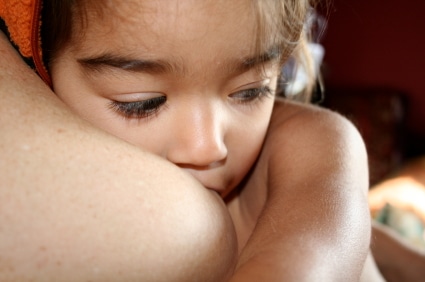 In her book, Breast-feeding Older Children, Sinnott interviewed parents from 48 different countries on breastfeeding and their experiences. What she found was that extended breastfeeding, that happening longer than two years, was not as rare as once believed. More and more parents are understanding the importance of long term breastfeeding and just how normal it can be.
"My aim was to support mums who are long-term breastfeeding, and to show them they are not alone. I'd like to educate health professionals, because the damage their negative comments can do is incalculable," says Sinnott.
With this new book a spotlight is shined on what is normally a taboo topic, breastfeeding older children. Not many parents are willing to talk about something that is often shunned in modern society. Mothers who choose to let their children wean on their own terms rarely speak out about their experiences. Despite the World Health Organization's recommendations of breastfeeding for at least 2 years and after for as long as mutually desired, breastfeeding rates are still very low for mothers of toddlers.
Some people feel that children who are breastfed for long periods will suffer emotional damage from it. Sinnott hopes to counter those negative perceptions and give other mothers the courage to come out on their breastfeeding. – Summer, Staff Writer
Related Articles: