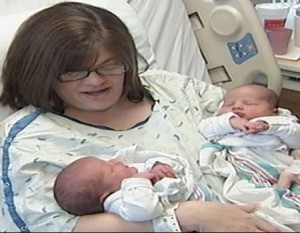 The average birth weight for most twins is 6.5 to 7 pounds each. One mom in Cincinnati, however, went above and beyond the average by giving birth to twin boys weighing roughly 10 pounds each.
The boys, Lucas and Dillon, were delivered by cesarean section at Bethesda North Hospital in Cincinnati. Mom Tamara Kankowski already had five other children, all of which were born bigger than average babies.
"I have big babies anyway, but we thought with twins we would actually have little babies," Kankowski said. "But we were at about 36 weeks when we found out they were going to be bigger than that, and we realized we were going to have toddlers again."
Lucas was born first and weighed 10 pounds, 2 ounces. Brother Dillon came a minute later and was weighed at 9 pounds, 9 ounces.
The brothers are the largest twins born at the Cincinnati hospital, however they fell short of beating the world record for largest twins ever born. That record is currently held by a pair of twins born in Britain with a combined weight of Britain at 23 pounds and 12 ounces.
Dr. Manny Alvarez, senior managing editor of FoxNewsHealth.com, commented on the twin's size by saying that such a birth is incredibly rare.
"This is extremely rare and just by definition – even for a single baby as far as weight – 10 pounds would still be classified large for gestational age and considered above the 90th percentile," Alvarez told FoxNews.com.
Though health conditions such as gestational diabetes can cause babies to be born larger, with Kankowski's history of larger babies it likely just a case of genetics. Currently the twins are being tested to see if they are identical or fraternal.
Mother and babies are doing well. -Summer, staff writer
Related Articles:
---
[ad]