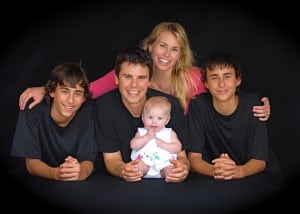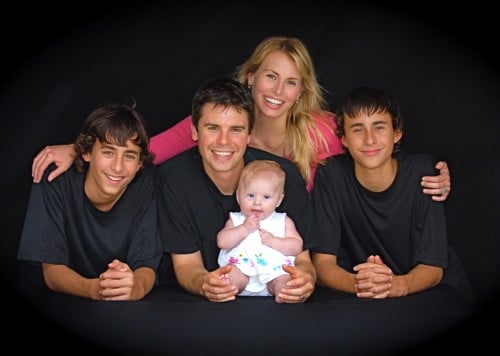 Niki Taylor made her People celebrity blogger debut earlier today and shared with her fans pregnancy cravings, weight gain and what she thinks it might be like to be mom to baby number four.
Currently 36, Niki and her husband, Burney Lamar, live in Nashville, Tennessee with their three children Ciel, 2 ½, and twins Jake and Hunter, 16 with baby number four is currently on the way.
Niki shared that, despite her issues with pregnancy amnesia, she can remember her pregnancy weight with each and every pregnancy. "When you have multiple pregnancies, it's funny how you remember how much weight you've gained with each one." said Niki, "Now, I can't remember what I just did 10 minutes ago but I can clearly recall what those numbers were with each pregnancy. I don't know why it stands out in my mind, but it does like a neon sign."
"With the twins I gained 75 lbs. (Yes, I said 75!), with Ciel I gained 60 pounds and it looks like I am headed towards a better target of 45 lbs. with this one (I seem to be a 40-plus kind of gal)."
But unlike a lot of moms (me included), Niki says she doesn't mind losing the extra baby weight, "I have never shied away from the challenges of taking the weight off though; I actually enjoy that part."
And what about those cravings? According to Niki, this baby is "'thinking outside the bun' daily, and that thought is three hard tacos with no sour cream, a bean burrito with no red sauce and of course, a Sierra Mist to wash it all down. For those of you who want to do the quick order, it would be the no. 8, to be exact!"
This baby's craving is apparently a good thing though since, according to Niki, "nothing and I mean NOTHING is open past 10 p.m., so this little one is already dialed in to the fact that Taco Bell is the only restaurant open until 3 a.m."
She also says that,
"if his kicks and movements are any indication, I think this baby is going to be wild. I know he or she will be a great distraction for the ever-busy Ciel. Lord, a mom needs some distractions every now and then!"
Ciel, according to Niki is a pretty busy little girl – only she doesn't really play like one. "She is all sneakers, dirt mover, stick collector and monkey on the jungle gym," says Niki so a wild new baby might be just the little brother or sister that little Ciel can appreciate.
Related Articles:
---
[ad]