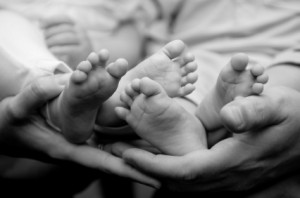 All families have some traditions that are passed on from one generation to the next, but for the Patrick family, the tradition seems to be giving birth to twins. As an interesting coincidence, from great grandparents to twin baby boys born recently, the family has had three sets of twins in four generations!
This Christmas and New Year celebration turned doubly special for the family when the senior twins, great grand uncle David and great grandmother Kathleen held the junior most twins baby Ryan and Harry as 10 year old twins George and Cameron looked on.
David and Kathleen Patrick moved to Stamford when they were very young and do not remember if there were any other twins in their family before their birth. Kathleen's son Simon and wife Shelly then had a set of identical twins George and Cameron. They are now 10 years old.
Adding to the double celebrations in the family, in November, Andrew Lambert, Kathleen's grandson and his wife Rachael, welcomed non-identical twins Ryan and Harry.
What is also odd is that the twin tradition is continuing through the father's line.
Shelly told the Stamford Mercury,
 "We were most surprised to find out we were expecting identical twin sons, particularly when my GP told me that the chance was 80 to one, because twins do not follow the father line but now they have twice.

"It was a lovely Christmas. Our boys used to be known as the little twins but they've now had their place taken by Ryan and Harry."
It will be interesting to see if the tradition of twin births continues for future generations as well!
---
[ad]