Padma Lakshmi and daughter Krishna, 13 months, braved the cold to spend an afternoon strolling around New York City.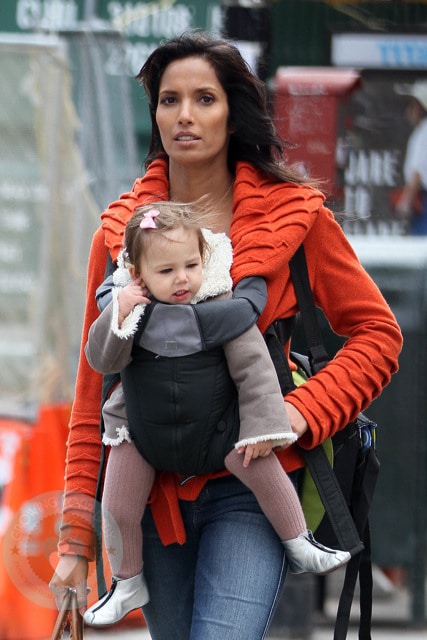 In March Padma hosted the Endometriosis Foundation of America's Blossom Ball at New York Public Library. During the event the Top Chef host opened up about her struggle with the disease and her advice for other women.
Being a role model for endometriosis was a 'no-brainer' for the former model.
"It's never easy to talk about your period, but it was such an important subject, and I'm so thankful that I have my daughter, that I couldn't help but pay it forward and speak out, because I don't want other women to go through what I went through," she told OK Magazine "I have so many women friends who didn't know they have endometriosis until it was too late, and it was such an important cause that I had no choice. I would've been morally corrupt if I didn't put my own ego aside, and open my mouth. That's really how I feel about it."
Padma urges other women to pay attention to the signs of severe menstrual symptoms.
"Pain is your body's way of telling you that something is wrong.  You don't have to suffer. You have a right to get the best treatment and the best quality of life that you can."
Dr. Oz praises her work.
"Padma's a wonderful person.  We got to spend some time together. What Padma's done is beautiful. In addition to bringing a wonderful woman into the world herself, she's become the face of endometriosis. She went public about an ailment that we know affects 10 million Americans. These are women who are embarrassed about their problems, because often times they have pain with defecation, pain with urination, pain during intercourse. They don't want to talk to anyone about this, so they carry the guilt and the pain for years. The average diagnosis period is ten years. Think about that. By the time they finally figure it out, they've had unnecessary procedures and it's hurts them in many ways."
---
Related Articles:
{SPLASH}
---