Last week I did a post on baby proofing you home and in that article I spoke about tethering your furniture to prevent young ones from being injured.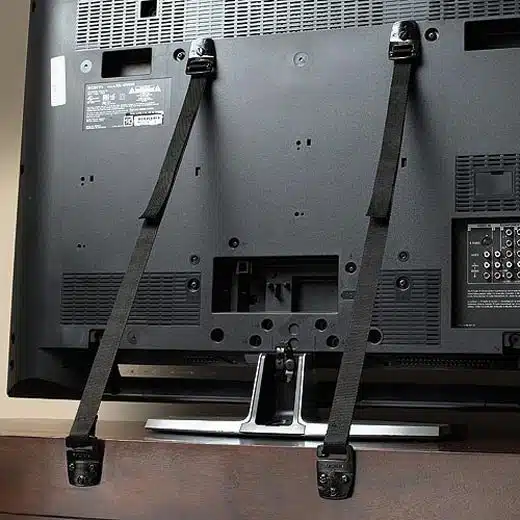 There is a study out now that finds that more than 100 children visit those emergency departments each year with television tip over injuries.
Parents need to be more aware of the hazards posed by televisions that can easily topple onto small children, say two Halifax researchers who conducted an unusual hospital study.

Their study, which appears in the current issue of Paediatrics and Child Health, was sparked by the injury of a child they treated. "A little guy was playing at home just like all little guys do," said Dr. Stephanie Dotchin of the IWK Health Centre in Halifax.

"And mom stepped away from the room and she heard a big crash and noticed that her child had a television fallen on top of him."

The youngster required neurosurgery, spent months in hospital, and still has difficulty walking and speaking because of brain damage.
Once the researchers started to look at televisions in the home, they also started to examine the sets within the pediatric hospital. After building a model that simulated a young child who are at an age most likely to climb and want to fiddle with a television, they found that it was actually quite easy to pull over TV sets in a pediatric hospital.
Ninety per cent of the televisions were found to be tippable by a child four years of age or younger. Following the study, they were all made secure.

"We'd like parents to be conscious that this is a risk in their homes and give thought to where they're placing their televisions," said Dotchin.

She advises anchoring televisions to a console or a wall to make them more safe "so that we don't have any more of these terrible accidents."

The study suggests standards be set for the anchoring of televisions.

Dr. Kevin Gordon of IWK's pediatrics department noted that most TVs come with an anchor at the back that will fit into the console intended to be purchased with that brand of television.

"My suspicion is that when you spend $500 or $600 for a TV, you balk at spending the extra $80 for the console that was made with the special seatbelt in the back for that TV."
"TVs are getting larger and larger all the time, and so this is really getting to be even more of an issue," she said.

"The other challenge is that people tend to put televisions on top of dressers, or they put televisions on top of things that are not necessarily TV stands, and kids climb. And therefore they get access to them, and with them being front-heavy we do see these kind of incidents."
It is recommended that televisions be placed on stands that are lower to the ground, steady, and ideally brace or anchor them to the wall.
---