A South Bend, Indiana couple just received the most amazing pre-Valentine's Day gift – the birth of their daughter. The baby's arrival was made even more special by the fact that both parents share the same birthday, which just happens to be February 13 – the same day their daughter, Grace, was born.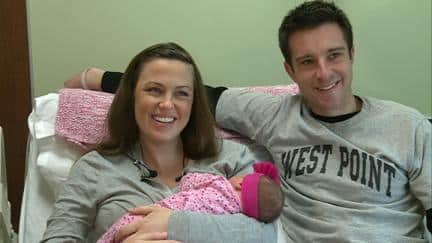 Their daughter's due date was actually nine days before their birthdays so they had never really given much thought to the idea of sharing their birthdays with her, but they are thrilled that it happened that way.
"It was great enough to celebrate our own birthday," Daniel Marques, Grace's father said. "Then when she came out and we could hear her crying, it was the best present anyone could ever have."

"It's hard to believe," Kelly Marques, the new mom said. "We just kept talking about how we didn't think she was going to born on our birthday, but she was! I always said that she will never be nine days late."
Of course, sharing the same birthdays with a holiday nearby might make shopping a little more complicated in the years to come…
"I guess I could have spaced out the amount of gifts that I have to give throughout the year," Daniel said. "But I Have to do it all in one day."
Still, that's a lot of love to share in one day.
"A whole lot of love on Valentine's Day, that's what it's all about," Daniel stated.
Well said and congratulations on the newest addition to the family!
Related Articles: