In New Zealand the heroic act of a stranger saved the lives of three children after she pulled them out of a car that burst into flames in a supermarket carpark on Tuesday.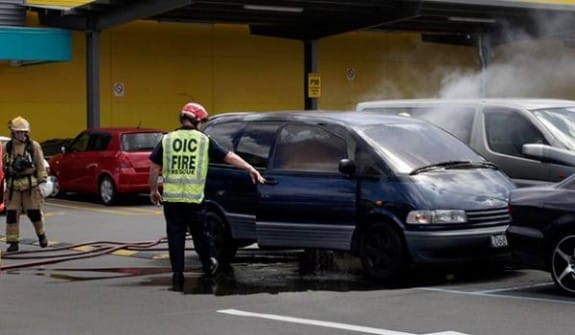 According to witness Sam Medhurst, it was around midday when a "fireball" engulfed the Toyota Previa, which was parked in the Pak'n Save car park in Palmerston North.
The car had been parked by the mother who had gone for a few minutes to get medicine from a nearby pharmacy.
There were reportedly three children in the car – a 7 year old, a 3 year old and a 13 month old baby.
Later, a central ambulance communications spokesman said that the three children were taken to Palmerston North Hospital. The baby had smoke inhalation and burns, the toddler had minor injuries and the oldest child had moderate injuries. Their mother too was in the hospital.
When the flames erupted in the car, staff from the Unichem pharmacy and Pak'n Save tried to put it out using extinguishers.
Palmerston North Fire Service station officer Bevan Clark said,
"A bystander has pulled a baby out of the car," he said. "The baby has received some superficial burns. The bystander did a really excellent job. At this stage we are treating it as an electrical fire."
Palmerston North acting senior sergeant Steve Crawford said that the baby was under observation.
He added, "The Fire Service are investigating the cause of the fire and we will make a decision on [any charges] when we hear back from them. It was excellent work from the bystander and she probably saved the young kids' lives."
Two of the children had been discharged and the third was in stable condition a hospital spokesperson revealed.
---
[ad]