New parents Jennifer and Daniel Price of Mechanicsburg, Pennsylvania hit the baby jackpot when they became the parents to this rare set of triplet boys last Tuesday. A completely spontaneous event, the odds of having identical triplets has been pinned anywhere from 1 in 500,000 to 1 in 5,000,000.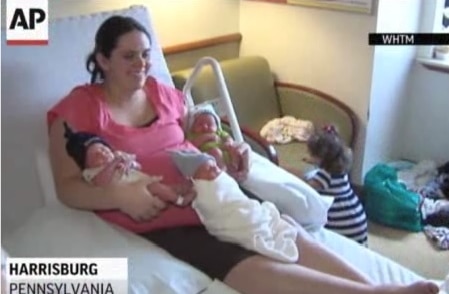 Daniel, Ryder and Garrett were delivered by Dr. Terry Tressler, a physician with Maternal Fetal Medicine of Central Pennsylvania, arriving within two minutes of one another at the Harrisburg Hospital.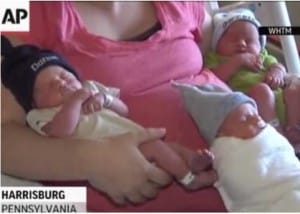 What was even more incredible was that Jennifer didn't need to be on bedrest before the babies arrival and was able to take all three home after just 4 days.
"It was unbelievable," new dad Daniel admitted.

"The entire thing couldn't have gone any more smoothly. We could tell there were an awful lot of people praying for us."
The couple learned in December that they were having triplets but didn't know they were identical until the babies arrived. Staff at their doctor's office, Daniel says, were as excited as they were.
"They got to know us pretty well. A lot of people made a big deal out of it, but people were very good about respecting our privacy," he said.
For tips and support Jennifer has joined the Keystone Mothers of Multiples group. The couple's church is also helping with meals, which will come in handy for the couple who will be on their toes for the next little bit.
Aside from feedings and changes, the hardest task will be telling the babies apart. Daniel revealed that they have looked for a feature or birth mark that could set each boy apart and there doesn't appear to be one difference – even their cowlicks are identical!
---
SOURCE
---
[ad]