Now that our son is starting to grow physically and developmentally, we are starting to have play dates with other kids.
All of our experiences have been positive up to this point because neither child can really communicate or has a preference for a certain way of playing. I know it is just a matter of time before my soon-to-be 2-year-old will have a negative play date experience and I will have to haul him home kicking and screaming.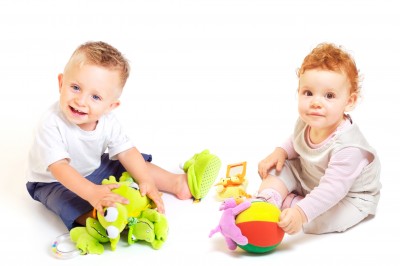 Here are some tips on having a war-free play session.
1. If your child is under 5, make plans with the mom to stay for the whole play date. Your child will feel more comfortable with you there and it's not fair to the other child's mother to bear the whole responsibility if the children do not get along.
2. Put your child's favorite toys away. In order to prevent a fight between them and their new friends. If your kids are extra protective of their "Dora" Doll or favorite bike they may not want to share them with others.
3. Most kids between 2-4 don't really know how to play with one another so try to sit with them and show them how to take turns and share the toys. The first part of the visit may be a power struggle between the toddlers. You may have to be a bit of a referee to get things started.
4. Although it may be embarrassing, your child may break something while on a play date. Make sure you offer to buy the child a new book/toy to replace the broken item or just simply pick something new out at the toy store and drop it off with an apology.
5. Do not bring your child to play dates if they are sick. Check ahead to make sure that no one that you are visiting is coming down with anything either.
6. Chose parents to have play dates with who have similar parenting styles. If you don't spank then make sure the other child's parents feel the same way. The same goes for smoking and swearing.
7. If the kids start to fight, try to let them sort it out..unless, of course, they start to hit each other. At that point, you may have to intervene and give them each something else to do.
8. Before you leave make sure your child takes part in a clean-up. If they are too young to understand the concept, you may have to try to put some of the toys back where you think they came from. True friends will understand once or twice if your toddler is grumpy and you have to make a quick escape, but try not to make it a habit or the invitation will probably not be extended.
9. Check ahead about snacks. Some parents do not give their kids snacks in between meals. As a safe bet, plan to give apples, carrot sticks, crackers and cheese, and water. Juice may be an option, but not always a preference because of the sugar content.
One important fact is that don't put so much pressure on yourself as well as your kids. Sometimes visits are wonderful, and other times they just don't work. So when you see things are not working out, cut your play date short and leave on good terms–remember we all have bad days, regardless of age.
Also, remember don't outstay your welcome. It may be nice to get out of the house but as nice as it is to have company, it's nice when they leave.
---