After arriving 14 weeks early and weighing 440 grams, Hailey Lynn Plaur has overcame many obstacles to be home with her mom and dad.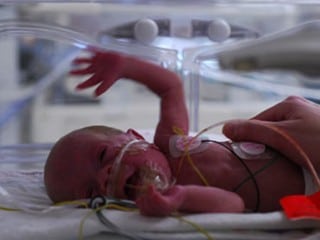 During her 26th week of pregnancy Cassandra Plaur was admitted to Coral Springs Medical Center where tests revealed that the placenta was not getting enough blood. She was then transferred to the Chris Evert Children's Hospital where they delivered her baby via C-section.
Being born so early wasn't Haley Lynn's biggest problem. It was her weight, or lack thereof, that was evident in snapshots taken at birth. The pictures showed the most signs of danger for Haley Lynn, who weighed less than a pound.
"She was a baby that for a lot of reasons wasn't growing very well inside the mother," said Eduardo Otero, M.D., medical director for the Hospital.
Doctors say she weighed half as much as other babies born at 26 weeks.
Hailey Lynn spent three months under the constant care of nurses, doctors, and of course her parents, while inside incubators in the neonatal unit of the Children's Hospital.Amazingly, at almost 4lbs and she is now home with her parents breathing on her own.

She is definitely a trooper that beat the odds!
Related Articles:
---