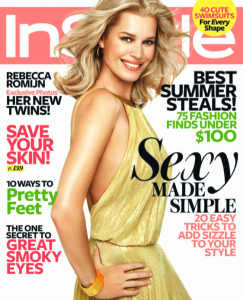 Rebecca Romijn shows off her twins Dolly Rebecca Rose and Charlie Tamara Tulip in the June issue of InStyle Magazine.
Says the actress of her daughters' exclusive debut, "What girls wouldn't want to be featured in InStyle? We figured they would be happy with this choice in 18 years."
Rebecca opens up about her life as a new mother and poses for the first photo spread with her twins just three months after giving birth. The story was photographed at her L.A. Hills home by Jenny Gage and Tom Betterton.
Here are some highlights:
On being a mom:
"Being a mom makes me feel whole and like I understand the meaning of life," Romijn says. "All I want to do is stare into my babies' eyes nonstop!"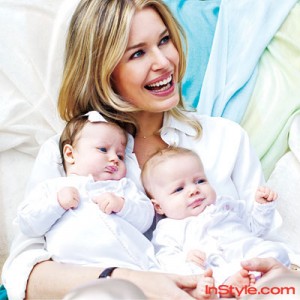 On her Post Pregnancy Size
"I feel as sexy as I have ever felt," says Romijn. "I'm a jeans size up from where I usually am, but there's nothing about it that freaks me out—I've always said that sexy is having a really strong sense of yourself and never taking yourself too seriously."
Rebecca says that Jerry has far exceeded her expectations as a father:
"He's got endless amounts of energy, and he's having such a blast with these girls." She jokes that he will be a strict father: "He's determined not to let them ever date while he is alive."
Rebecca is eager to pass her style sense on to her daughters.
"I know they're going to have a lot to say by the time they turn 2, so until then I get to dress them however I want." Romijn tells InStyle that her current child style icon is Madonna's daughter Lourdes: "She's doing new wave postmodern Punky Brewster geek chic. She's one to watch."
The complete interview and more from InStyle's June Sexy Issue, will be on newsstands Friday, May 22.
---