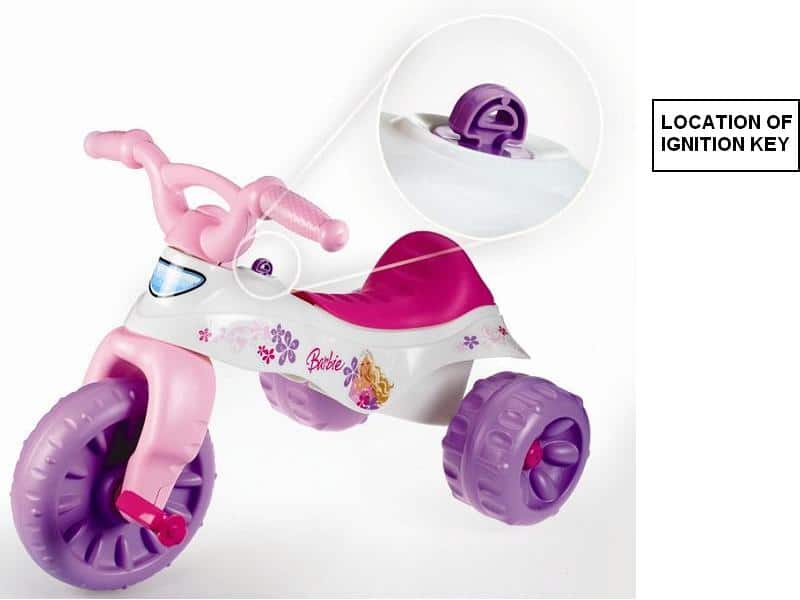 The U.S. Consumer Product Safety Commission and Health Canada, in cooperation with Fisher-Price, today announced a voluntary recall of about 7 million Fisher Price Trikes and Tough Trikes toddler tricycles. A child can strike, sit or fall on the protruding plastic ignition key resulting in serious injury, including genital bleeding.
CPSC and Fisher-Price are aware of 10 reports of incidents resulting in injury. Six of the incidents required medical attention after young girls, ages two to three years old, fell against or on the protruding disc-shaped and D-shaped pretend key.
This recall involves the Fisher-Price Trikes and Tough Trikes toddler tricycles that have either a disc-shaped or D-shaped pretend key. The model numbers are located under the seat in the storage compartment. The trikes are intended for children 2 to 5 years of age. The pretend keys are located about 3 inches in front of the seat and protrude at least 5/8 inches above the trike's body. The trikes manufactured after June 16, 2010 are not included in this recall. These trikes have a modified key in a flattened D shape and a manufacturer run number higher than 1670Q2. The run number indicates the trike was manufactured on the 167th day of 2010 or on June 16, 2010. The run number is found under the seat below the model number.
Consumers should immediately place the trikes out of children's reach and contact Fisher-Price at (800) 432-5437 between 9 a.m. and 6 p.m. ET Monday through Friday or visit the firm's website at www.service.mattel.com for a free replacement key.
---
Related Articles:
---