NHTSA and Transport Canada today announced a voluntary recall of certain Foonf and Fllo convertible car seats manufactured before May 21, 2021.
It has been determined that it is possible for a child to access the EPP foam cushion with their fingers through the crotch buckle opening in the fabric and pick at the foam. After repeated picking, the foam could be a choking hazard if they put it in their mouth.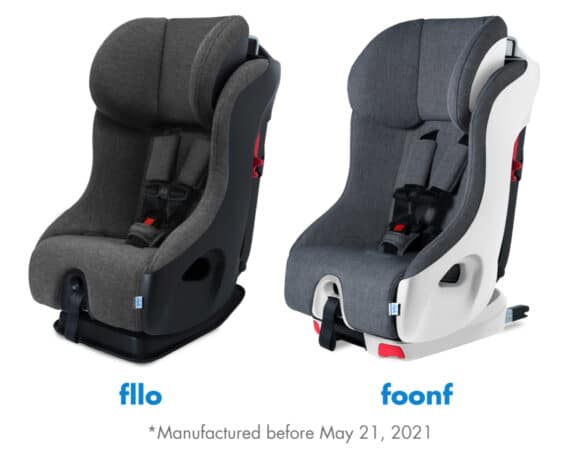 In order to avoid this risk, Clek has designed a plastic insert to cover the foam around the crotch buckle opening. The company will provide affected car seat owners with a kit to fix the issue. All Clek Foonf and Fllo car seats made on or after May 21, 2021, have this plastic insert.
Car seat models affected by the recall.
Clek Foonf:
FO12C1
FO14C1
FO15C1
FO16C
FO17C1
FO18C1
FO19C1
Clek Fllo:
FL15C1
FL16C1
FL17C1
FL18C1
FL19C1
Clek's recall information states they will notify all registered owners of affected car seats. This notice will explain the issue and include instructions on how to get a free kit to fix the issue.
If you have not registered your car seat, or if you have moved, contact Clek to get a free remedy kit.
Make sure you have this information on hand when you contact Clek:
your car seat's serial number
its date of manufacture and
your updated mailing address
You can contact Clek:
Online: www.clekinc.com/seatcushioninsert
By email: seatcushioninsert@clekinc.com
By telephone: 1-866-656-2462
It is safe to use your car seat while waiting to receive a kit to fix the issue.
Once you receive the kit, install the plastic insert by following the included instructions. Do not return your car seat to a store or to Clek.