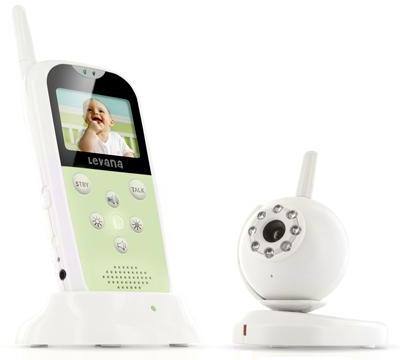 The U.S. Consumer Product Safety Commission, in cooperation with Circus World Displays Limited, today announced a voluntary recall of about 800 Levana Wireless Video Baby Monitors because the wiring in the baby monitor camera can overheat and emit smoke, posing a burn hazard to consumers.
Circus World Displays has received two reports of the camera portion of the monitors overheating and smoking. No injuries have been reported.
This recall involves Levana wireless baby monitors with model number LV-TW300. The receiver front is white and green with six round buttons and the printed word "Levana". It is 7 inches tall and includes a stand/base. The camera is all white, about 5 inches tall and is attached to a 3 1/2 inch long white base. The camera can rotate and swivel in various directions. The camera and receiver each has its own A/C adapter.
Consumers should immediately stop using and return the baby monitor directly to CWD for a refund or replacement with a different model. When returning, please include the entire product, your complete name, mailing address and phone number in the package and mail to Circus World Displays Ltd, Attention: Adam Crysler, Dealer Returns Specialist, 60 Industrial Parkway Suite Z64, Cheektowaga, NY 14227
For additional information, contact Circus World Displays toll-free at (866) 946-7828 between 8 a.m. and 5 p.m. ET Monday through Friday, by e-mail at support@svat.com or on the firm's website at www.mylevana.com
Related Articles:
---
[ad]