Haydee Ibarra and Yovani Guido were all smiles today while surrounded by friends, family and hospital staff as they wheeled their miracle baby out of the Los Angeles County Hospital.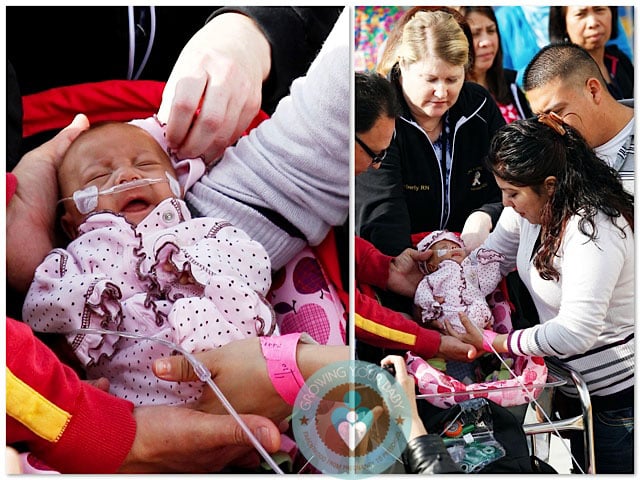 Melinda Star Guido was born on August 30, 2011 weighing 9.5 ounces – the second smallest baby to survive in the US and third in the world. The baby arrived 16 weeks early at Los Angeles County Hospital, where she has spent the last 5 months in the hospital's Neonatal Intensive Care Unit.
'I am so excited to finally have my baby come home,' said Melinda's mother 'We have waited almost five months for this moment. It is so wonderful and we are ready to bring Melinda home.'
Dr. Rangasamy Ramanathan, chief of neonatology at the hospital, said last month he wasn't sure initially if Melinda was going to survive beyond a few days.
For being so tiny Melinda's NICU journey was somewhat uneventful. Just a month after birth, she was treated for an eye disorder that is common in premature babies and she underwent surgery to close her PDA, an artery that usually seals after birth.
Now weighing 4 1/2 pounds Melinda will go home on oxygen. Doctors are hopeful to see many more milestones accomplished in Melinda's development and will follow her care over the next six years.
---
Related Articles:
{PACIFIC COAST NEWS}
---
[ad]