Today we had the chance to preview Let's Rock Elmo at Hasbro's Showroom in New York City.  The red monster will undoubtedly be popular when he hit toy shelves this Fall.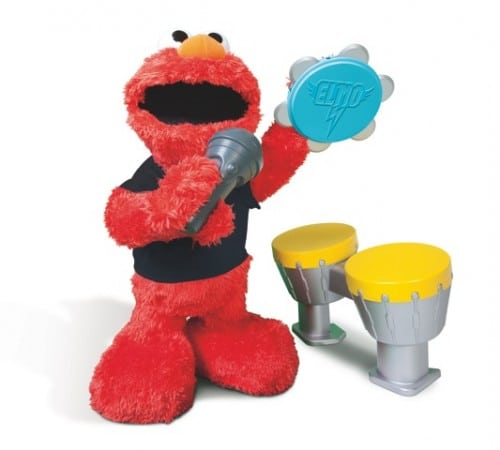 It's music time! Rock out with the new LET'S ROCK ELMO! Dressed in a concert style tee, Elmo takes the stage singing and making music- and preschoolers can too! Elmo comes with his very own microphone and two instruments – a tambourine and a drum set. Preschoolers can choose which instrument Elmo plays, and he magically recognizes which one you give him. Kids can also play along on Elmo's instruments- they're perfectly sized for little hands! For even more rockin' fun, Elmo also interacts with other LET'S ROCK instruments (each sold separately); he knows when you're playing the LET'S ROCK Guitar, Keyboard or Microphone and plays along with you! The LET'S ROCK ELMO toy sings six rockin' songs, so grab an instrument and join Elmo's band!
Here he is live. Please take note of his side kick.  They make a good team.
Related Articles:
---
[ad]