Since 1992, the American Academy of Pediatrics has been telling parents the importance of putting newborns and infants to sleep on their backs to reduce sudden infant death syndrome(SIDS).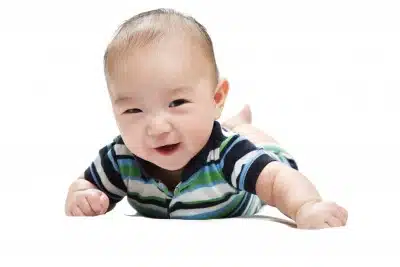 Now the American Physical Therapy Assn. wants parents to know that position is for when they're sleeping and unsupervised.
A national survey of 400 pediatric physical and occupational therapists by the children's health advocacy group Pathways Awareness found that two-thirds of therapists reported increases in motor delays in infants who spend too much time on their backs.
"We have seen first-hand what the lack of tummy time can mean for a baby: developmental, cognitive, and organizational skills delays, eye-tracking problems, and behavioral issues, to name just some complications," said association spokeswoman Judy Towne Jennings from Fairfield, Ohio, in a news release. "New parents are told of the importance of babies sleeping on their backs to avoid SIDS, but they are not always informed about the importance of tummy time."
It's not just when they're asleep that babies are on their backs. What with car seats, infant carriers, strollers and swings, the new generation of babies spend much of their awake time locked into a variety of protective containers — on their backs.
Tummy Time promotes muscle development and helps avoid flat areas on the backs of heads. So regularly get the little tykes out of those convenient containers and get down on the floor with them – even if they don't like it.
Babycenter offers these tips to help make Tummy Time more enjoyable for both parent and baby:
Join them on the floor –

get down on their level and encourage them, talk with them, shake their rattle, make funny faces or play peekaboo.

Buy a few tummy time toys

– invest in a tummy-time toy or gym, designed especially for babies to play with while on their belly. Some have lights, mirrors, moving pictures, music and/or squeaky toys attached.

Get the other kids involved

– if you have other kids at home have them join you to distract the baby.

It's all about timing

– make sure that you baby isn't hungry or tired when you set them down for tummy time. A just-fed baby may also be uncomfortable if you try it just after feeding
Tip: Some parents find it helpful to roll their babies over on their tummy for a little while after every diaper change. It's easy to remember to do it, and your baby may come to expect it. Your baby may also enjoy the view, if he's up on a changing table. Just be sure to hold on to him so he doesn't roll off.
---