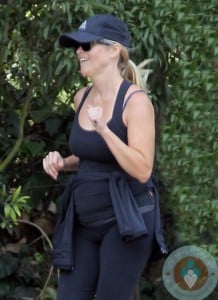 Long ago, experts would advise that pregnant moms rest to protect their babies. That recommendation dissolved long ago when research found that inactivity actually increased the chances of complications. Research has also found there are some benefits to staying active during pregnancy. A new study may be able to add yet another benefit to exercise during pregnancy– a boost to baby's brain while still in utero.
"Being active can ease postpartum recovery, make pregnancy more comfortable and reduce the risk of obesity in the children," Daniel Curnier, Ph.D., told PsychCentral. "Given that exercise has been demonstrated to be beneficial for the adult brain, we hypothesized that it could also be beneficial for the unborn child through the mother's actions."
Turns out, their theory seems to be correct.
Researchers from the University of Montreal randomly assigned pregnant women entering into their second trimester to either an exercise group or a sedentary group. Those in the exercise group were asked to complete at least 20 minutes of cardiovascular exercise three times per week. Intensity-wise, they were instructed to achieve at least a slight shortness of breath.
When the mothers delivered and their babies had reached between 8 and 12 days old, researchers brought moms and babies in for testing.
"We used 124 soft electrodes placed on the infant's head and waited for the child to fall asleep on his or her mother's lap," Ph.D. candidate Elise Labonte-LeMoyne told PsychCentral. "We then measured auditory memory by means of the brain's unconscious response to repeated and novel sounds."
In other words, the brains of the babies whose mothers had exercised showed more "maturity" than those born to the group of sedentary mothers.
According to Dave Ellemberg, Ph.D., who led the study, the team is currently in the process of evaluating the cognitive, motor and language development of these same children at the age of 1 to determine if the benefits have a lasting effect. Regardless of whether or not that maintenance is present, he says that this study should encourage mothers to exercise, not only for themselves, but also their unborn children.
"We hope these results will guide public health interventions and research on brain plasticity," Ellemberg told PsychCentral. "Most of all, we are optimistic that this will encourage women to change their health habits, given that the simple act of exercising during pregnancy could make a difference for their child's future."
According to health officials, women who are pregnant can continue with their normal workout routine until it becomes too uncomfortable. The only exceptions include contact sports, such as football, or sports in which bodily injury is a big risk. If you're unsure of whether or not your preferred activity is safe, talk with your obstetrician.
Related Articles:
---
[ad]