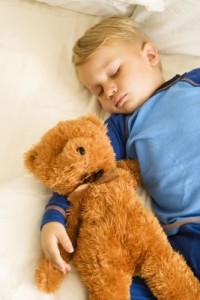 Most parents cannot wait until nap time so they can have a few moments of free time. Now researchers from the University of Arizona in Tucson are saying nap time is equally important to your child's ability to learn and development.
The research team studied 48 toddlers, first by playing for them phrases from a generated language until they became familiar with them. The 15-month-old toddlers were then followed up to see if sleep helped them with abstract learning. What the researchers found was that when the toddlers napped without 4-8 hours after hearing the phrases, they showed evidence of abstract learning. This did not happen to the toddlers who did not take a nap during that time.
What the researchers believe is that the deem REM (rapid eye movement) sleep that infants and toddlers have the most of is when their brains develop the most. When they are able to sleep soon after learning new information, their brains are able to detect the general patterns in new the information. This makes it vitally important for toddlers to have naps during the day and a healthy sleep schedule at night.
Parents and teachers can use this new information to plan educational moments before naps and bedtime. By structuring the day to give toddles and infants new information shortly before they will sleep, parents and teachers can help ensure that their brains will be able to process the information and learn it easier.
The results of this study were presented at the American Association for the Advancement of Science annual meeting in San Diego, California. More research on this is sure to follow soon.
Related Articles:
---
[ad]