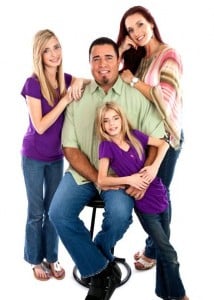 If you saw Sierra and Sienna Bernal strolling down the street, you might realise they're sisters.  They're both blond and pretty with a matching pair of smiles.  You would probably be surprised, however, to find out that they're twins.  At 13-years-old, Sierra is 5ft 1" while Sienna is a petit 4ft.
It wasn't until six months into her pregnancy that mom Chrissy Bernal was told she was expecting twins.  Sienna had been too small to be detected earlier.
At the age of six, Sienna was diagnosed with primordial dwarfism, a condition affecting only 200 or so individuals worldwide.  Sienna is the only known primordial dwarf with an average sized twin.
The girls have been through a lot together and share a special bond.  They were born by C-section at 34 weeks.  Sienna weighed just over a pound and was only given a 10 percent chance of survival.  She remained in the NICU for 108 days, before she was strong enough to go home.
In those early days, a wedding ring fit around Sienna's arm and she was dressed in doll's cloths.
She has a brain anomaly that has resulted in her currently having the learning age of an eight-year-old.  She has had surgery to repair a hole in her heart and she has battled lung disease and won.  She will also need more surgery to fix a curvature of her spine.
These days, while Sienna attends special needs classes, she goes to the same school as Sierra.
"Sierra looks out for me and we do loads together – shopping, swimming and singing," Sienna says.

"She can be bossy but she shows me how to flirt with boys, stands up for me if I'm teased and reaches things when they're too high."
Sienna takes part in Taekwondo, cheerleading and dance classes.  The girls even participated in a beauty pageant last year.
"Most of the time I don't really care I'm different – it actually makes me feel special," Sienna says.
Chrissy confirms, "Sienna doesn't let it affect her – when she comes home she'll often shout, 'Dwarf in the house!'  Though it sometimes gets her down that she can't play volleyball like Sierra and the boys don't show as much interest in her."
"In a lot of ways Sienna is just me but smaller," says Sierra.  "Like any sister, she's annoying, especially when she steals my clothes – even though my tops come down to her knees.  But I'll always protect her.  If she's teased at school I'll tell the bullies it's not cool."

"I try to treat the girls as equals," says Chrissy.  "Sienna has a real passion for life and makes everyone laugh.  I'm so proud of both my girls."
– Jen R, Staff Writer
Related Articles:
---