This year Vtech is expanding all of their popular lines and adding a new collection of toys for children 6 months – 5 years old.
Available this Fall, Go! Go! Smart Wheels is a variety of plays sets that can be attached together to create a town or city of play.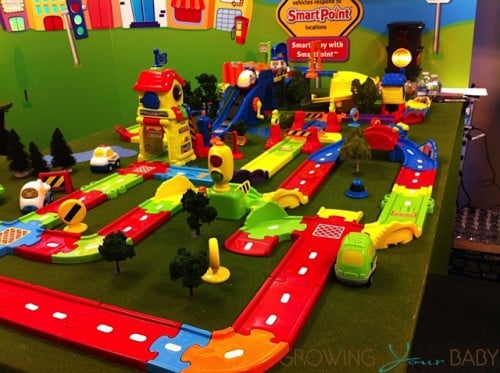 Each playset features SmartPoint locations that can be recognized by Go! Go! Smart Wheels SmartPoint vehicles. As a vehicle is rolled over a playset's various SmartPoint locations, the car will flash, play greetings, fun sounds, short tunes and sing-along songs.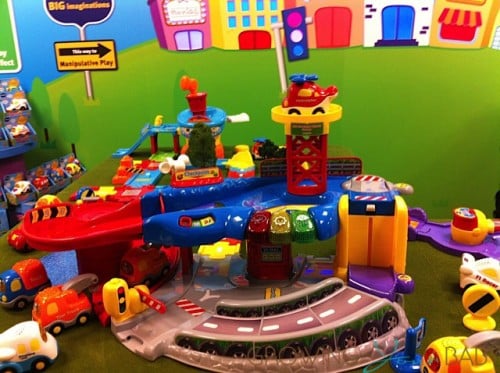 With 12 Go! Go! Smart Wheels vehicles to choose from, children can cruise into the learning zone. These electronic play vehicles are perfectly sized for little hands and entertain children with a light-up button that activates music and sounds. Little ones will also learn about different letters and vehicle names through pretend play.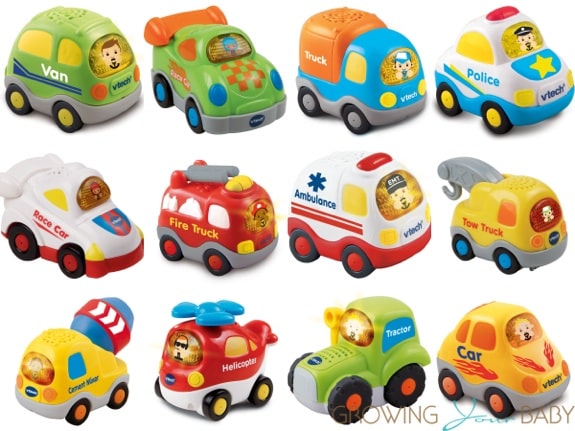 Customize the track to your child's play preferences or mix & match the playsets – the possibilities are endless. Cars will be $7.99 each and the playsets start at $14.99 for an 8-piece track launcher and go up $49.99 for the train set, which has 10 smartpoint locations on it.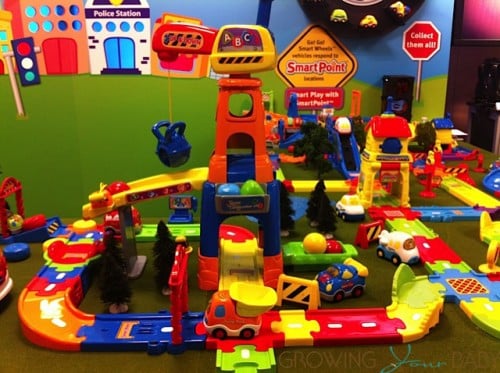 Vtech will also introduce a Wheels Car Carrier to store up to 6 vehicles.
For little ones 6 – 36 months a great gift idea will be Cody and Cora The Smart Cubs.  These sweet bears and not only cuddly, but they are loaded with a ton of great features.  In fact they will know exactly what time it is so children can grow and learn with their smart cub every day through daily morning greetings, bedtime music and holiday and birthday wishes.  Right out of the box, Cody and Cora include 40 phrases, four sing-along songs, two stories and 30 melodies.  In addition to the out of the box play, parents can easily download 130 melodies, 20 stories and many more activities via VTech's Learning Lodge program. ($19.99 available Fall 2013)
For little shoppers VTech will introduce the 2-in-1 Shop & Cook Playset. This fun set transforms from a shopping cart to a kitchen in a few simple steps.  The cart responds with fun phrases and sounds and when kids are ready to cook a meal, the cart becomes a play kitchen complete with a sink, oven, stove burner and cutting board.  The playset encourages pretend play and exploration while teaching about food, colors, numbers, music, following directions and more. ($49.99 Fall 2013)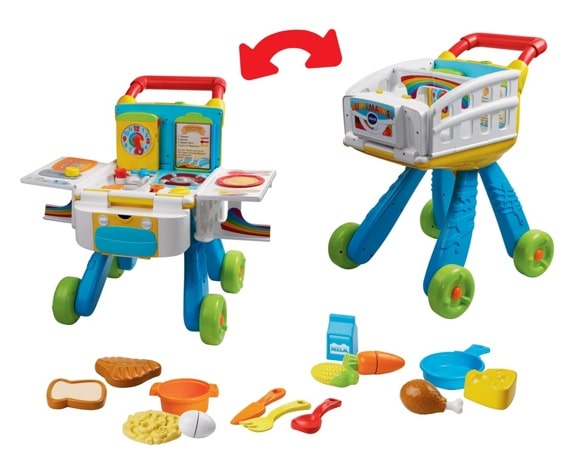 Packing for a learning adventure is fun with the Roll & Learn Activity Suitcase. This travel-themed learning suitcase features an interactive activity panel on its front with four light-up piano keys, a removable phone, fun dog character, spinning gears and more for an imaginative play experience. Children can open the suitcase to pack their things, and an easy-grab handle lets them take their fun on-the-go. Little travelers will learn first words, greetings in English and Spanish, modes of transportation and famous places as well as strengthen their fine and gross motor skills. The suitcase includes more than 30 melodies and sing-along songs.($34.99)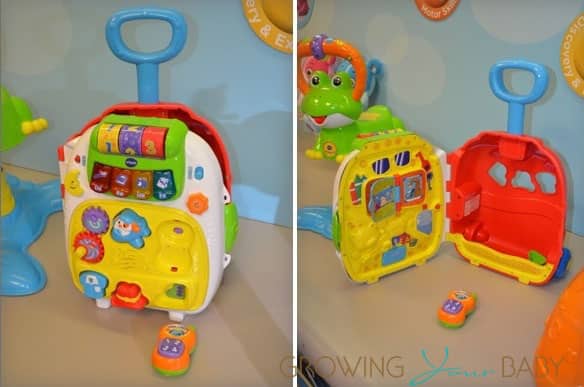 Embracing on the tablet boom, Vtech will introduce the iDiscover App Activity Table. AT first glance it ressembles a regular play table with the usual array of gadgets around the outside, but if you look closely there is a spot for an iPad in the middle. Protect by a plastic shield the device runs an app that interfaces with the table, making sounds and displaying images that liven up its play. It'll retail at $44.99 when it is available this Fall.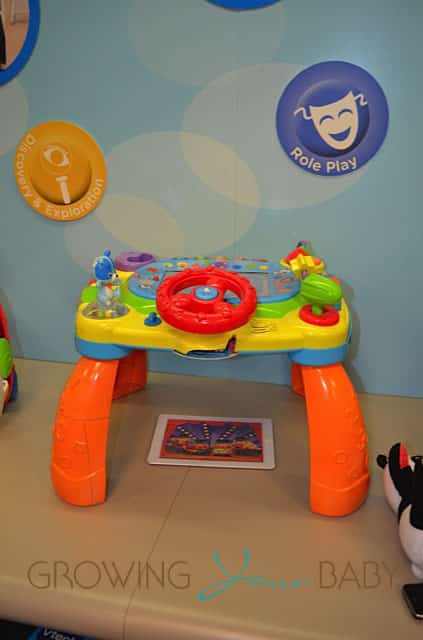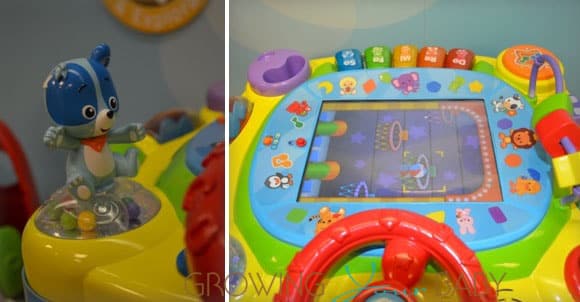 VTech's Switch & Go Dinos! From a Velociraptor to a helicopter and from a Stygimoloch to a race car, and more, innovative technology opens up a world of endless imagination and creativity. The evolving line, now includes more than 15 Switch & Go Dinos, ranging in price from just $12.99 to $69.99.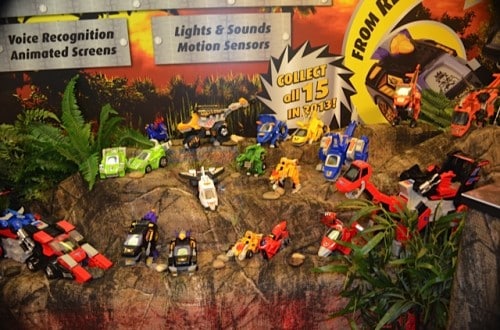 The hero of this year's line, Jagger the T- Rex, transforms from a super-cool construction crane to a fierce Tyrannosaurus Rex and features innovative voice recognition technology.
---
[ad]