Trista Sutter and husband Ryan Sutter recently celebrated the impending arrival of their second baby with family and friends at the Sonnenalp Resort of Vail in Colorado.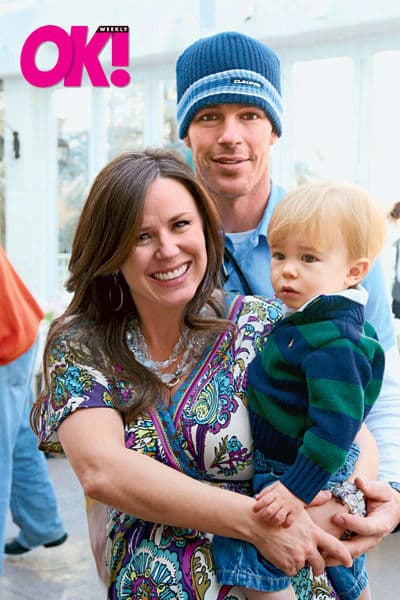 The couple, who already have a son, Max, 19 months, are set to welcome a baby girl in April.
Trista spoke exclusively with OK! Magazine about how her pregnancy is going and what Max thinks about being a big brother.
Here are the highlights:
How has the pregnancy been?
I feel good. Now I'm just tired. I'm due in mid-April so I'm trying to take it easy. I want her to go as close to term as possible because Max was four weeks early.
Have you had any scares?
I was in the hospital last week for dehydration. I got a cold and wasn't keeping up with my fluids. I was having Braxton Hicks contractions, which are like fake contractions. I've had them throughout the pregnancy, once an hour or twice a day, but this was every 5 minutes. They rehydrated me and sent me home the next day.
Do you want more kids after this one?
No, I just feel lucky that I'll have one of each. As long as she's healthy, I'm going to have a permanent sterilization procedure done [a few months after the birth]. God forbid if she is unhealthy or we lose her, then I would try for another one.
Does Max know that he's going to be an older brother?
He knows that my big belly is called "baby" and he knows what babies are. But, then again, last night he lifted up Ryan's shirt and goes "baby" so I don't think he quite gets it yet!
Do you think your new daughter will be a daddy's girl?
Oh, absolutely. That was a big reason why I wanted a girl actually. Typically, it's daddy's girls and momma's boys. I think it's going to be so special to have a girl who will have her daddy wrapped around her little finger
---
[ad]