Emily Barton probably turned a few heads while she was pregnant after gaining 7 stone(98lbs) carrying with her son.
The reason for the incredible waist expansion was a massive ovarian cyst which was wrapping itself around her unborn son.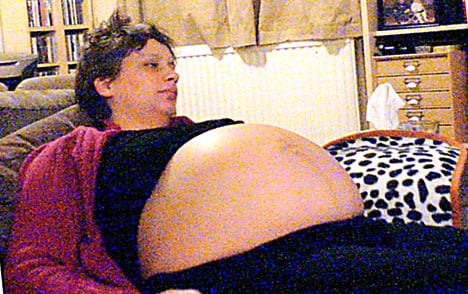 Eventually the cyst became such a threat to her baby's life that she was given an emergency caesarean section. The massive cyst was found to contain 18 pints of fluid.
"After that I felt so light that I literally skipped down the hospital corridor," said 30-year-old Mrs. Barton.

"I can't believe I had something that big growing inside me."
Mrs Barton and her husband Rob, 32 were delighted when she became pregnant in July 2005.
But at her 12 week ultrasound it was revealed that Emily had a 31/2inch cyst on her right ovary.
"I was shocked when they told me," she said. "I was worried that it might affect the baby.

"Because it was attached, the doctors said they couldn't remove it, but would monitor it carefully. But I was so worried."
Regular scans showed that the cyst grew at an alarming rate.  In fact when 16 weeks pregnant, she began suffering severe pains as her growing baby competed for space.
"I kept thinking I was in labour I was in so much pain. The scans kept showing that the cyst was pushing the baby to one side.

"I was wondering how he could possibly survive with this cyst growing faster than he was.

"My bump was growing at twice the normal rate. At 16 weeks I was so big that friends joked that it was going to be a huge baby.

"By 23 weeks I had to stop work as I was so big, and by 28 weeks I could no longer fit even into maternity clothes."
By the time Mrs Barton was almost full term in her pregnancy she had ballooned from 13 stone to 20 stone.
"I was so big that I couldn't get in and out of the bath by myself. Rob had to help me. And I couldn't put my own shoes on – or even see my toes. I couldn't even stand and wash the dishes.

"When I went for my scans the sonographer kept saying she had never seen anything like it."
The caesarean was carried out in April last year, with baby Sam weighing 6lb 15oz.
The cyst, by now a foot across, took a further two hours to remove.
"I couldn't believe how much lighter I felt straight away," said Mrs Barton. "It felt wonderful. I could actually look down and see my own toes."
After ten days, the couple were allowed to take their baby home. But there was more stress for the family after it was revealed that baby Sam had a heart defect and needed an operation at four months old to repair it.
"We were so worried about him having the operation," said his mother.

"But we knew that if he had spent nine months battling against the giant cyst that was growing next to him, then he could survive this. He is such a fighter."
Thank fully the operation was a success and Sam was allowed home after a week in hospital.
While doctors are not sure what caused the cysts she will have to have checkup every six months as it was found to have pre-cancerous cells.
"I now have only one fallopian tube as the doctor had to remove it when they took the cyst out."
She has lost all of the weight she put on while pregnant and looks forward to telling her son the tale of his birth.
---
[ad]