VTech, an industry leader in developmental stage-based electronic learning products for children, continues to build upon its mission to create innovative educational products that enrich children's development. In 2014, VTech is expanding its award-winning infant and preschool line with more than 40 exciting new products.
New introductions to the infant and preschool line include:
The Chomp & Count Dino™ teaches kids about colors, numbers, shapes.  Simply place one of the eight brightly-colored play pieces in the dino's mouth and watch as he eats and recognizes each piece. Play in either food or counting mode and the dino responds with rewarding sounds and phrases all while introducing colors, numbers, shapes and more.($19.99)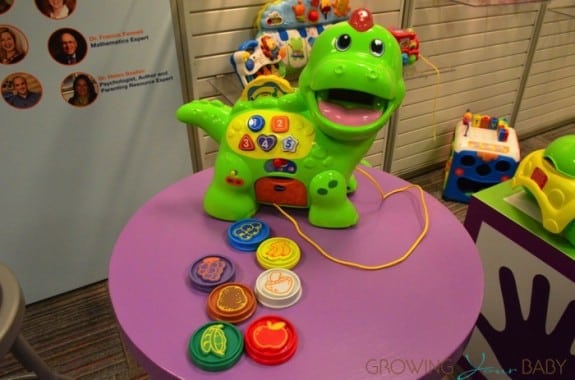 The Sit-to-Stand Smart Cruiser™ grows with your child by transforming from a floor play toy with detachable steering wheel activity panel to an exciting ride-on toy. The interactive steering wheel features driving, learning and music modes with more than 80 songs, sounds and phrases that introduce animals, opposites and first words. ($39.99)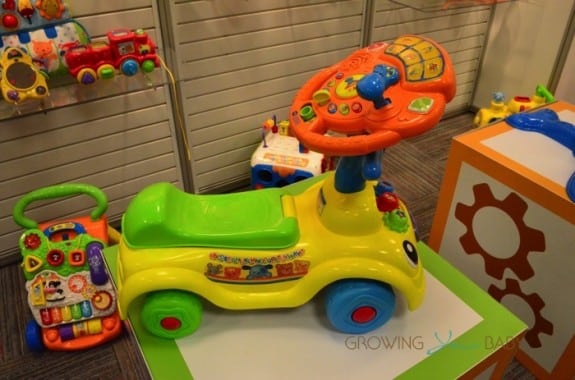 All kids love to sing and the Stand & Learn Singing Center gives them all the tools they will need for their next performance.  As they sing into the microphone, five colorful lights correspond to children's voices, or they can play with wacky voice-changing and amplifying effects. Rock out with three instrument buttons that play guitar, drum and saxophone sounds. ($29.99)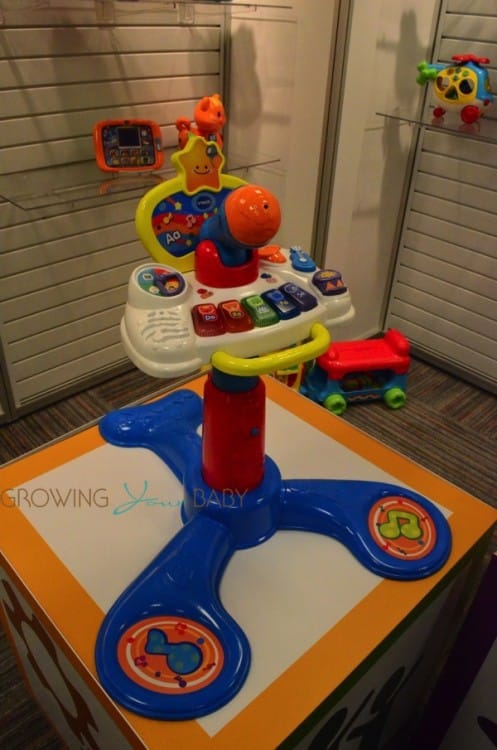 In addition they will also introduce the Smart Shots Sports Center, Lil' Speller Phonics Station and Record & Learn KidiStudio, which are all shown in the gallery below.
Building on their wildly popular Go! Go! Smart Cars collection Vtech will add 14 new playsets and vehicles to the line, plus a storage case for all of the characters.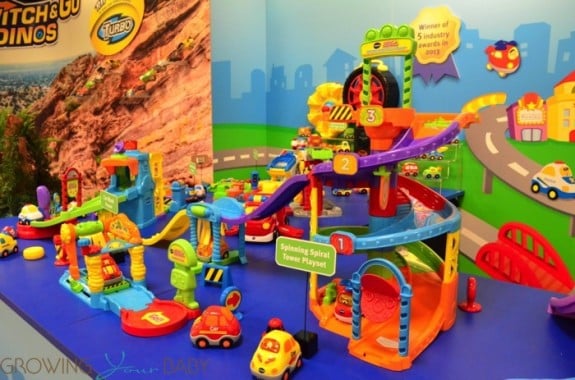 The product line is also "going wild" with an entirely new extension – Go! Go! Smart Animals™.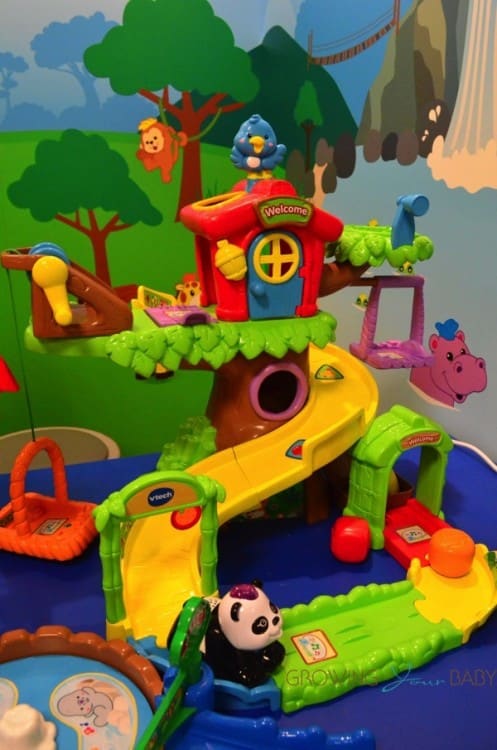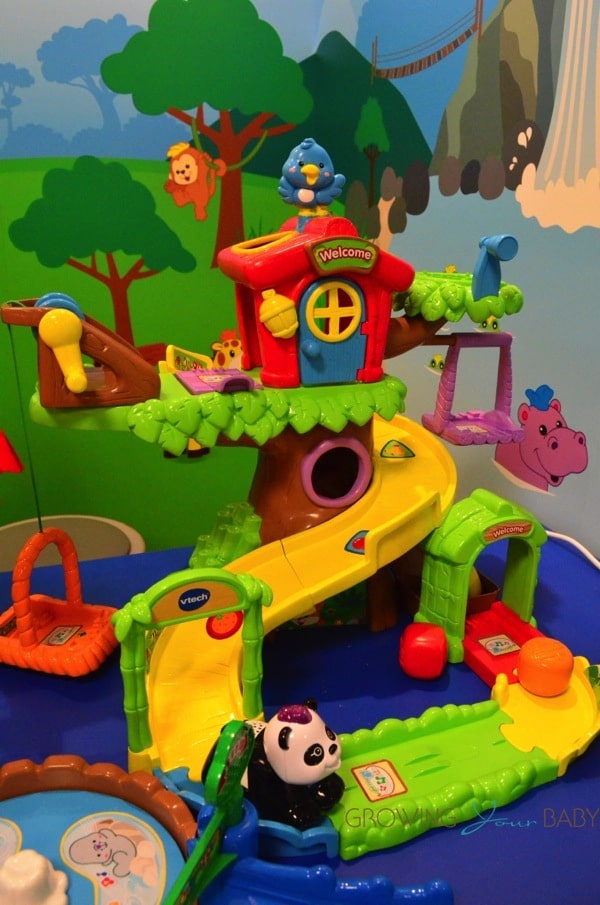 "The response to Go! Go! Smart Wheels exceeded our expectations, and we're thrilled to expand the brand," said William To, President of VTech Electronics North America. "The new range of products allows VTech to reach an even broader audience and furthers our commitment to developing innovative products that make cause-and-effect learning fun for kids. As always, everything we do ladders back to our legacy in learning."
Each playset features SmartPoint™ locations that can be recognized by every SmartPoint vehicle and animal in the lines. As a vehicle or animal is rolled over a playset's various SmartPoints, it will flash and play greetings, fun sounds, short tunes and sing-along songs.
The 2014 Go! Go! cars line includes fun new playsets such as the exciting Ultimate Amaze-ment Park Playset™, letting kids race their cars through a 360 degree loop, spiral and ramp, Fire Command Rescue Center, Spinning Spiral Tower Playset, Police Station and the Launch & Go Storage Case, ranging in price from $19.99 to $59.99.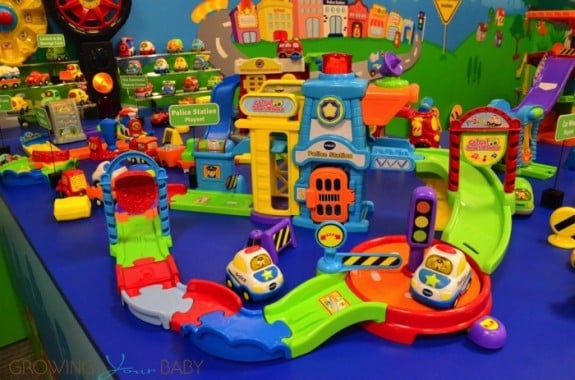 Three wild playsets are part of the new Go! Go! Smart Animals line, including the Zoo Explorers Playset™, Forest Adventure Playset™ and Tree House Hideaway Playset™. The introductory animals assortment includes a monkey, tiger, lion, hippo, giraffe, elephant, zebra and alligator. The vehicles and animals start at just $7.99, with playsets ranging in price up to $59.99.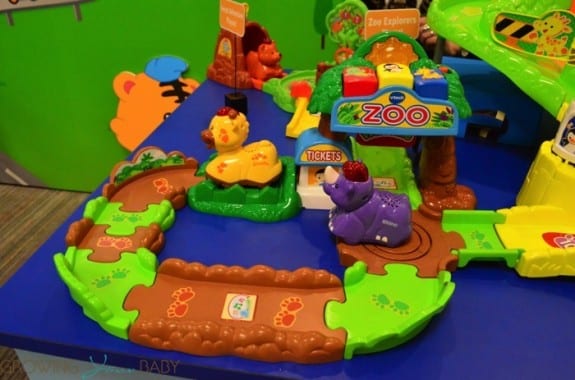 The evolution continues with the introduction of VTech's Switch & Go Dinos Turbo for 2014! Kids can rev up the action with the addition of flywheels that let the dinos race and roar across the floor.

There are two new launchers to really turbo-charge the fun. The new line also includes the first ever remote control Switch & Go Dinos Turbo – Bronco the RC Triceratops™($49.99), and a rugged construction excavator, Digger the Woolly Mammoth™($29.99).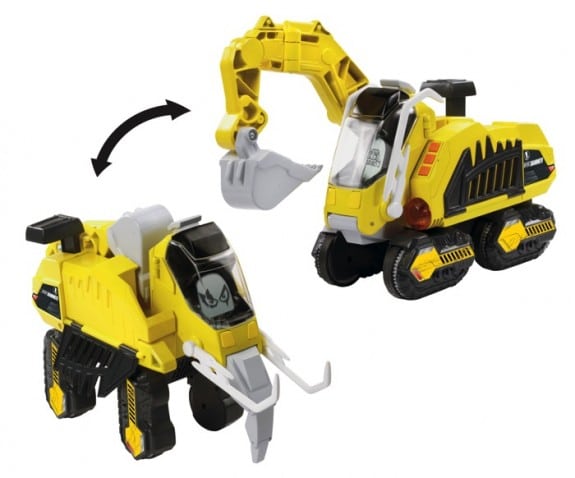 The Kidizoom Smart Watch is an exciting interactive watch that allows kids to capture photos, add effects, record videos and play built in games.  complete with a 1.4″ color touch screen, as well as a customizable watch mode with analogue and digital clock display, this watch is the perfect way for kids to learn how to tell time.  ($49.99)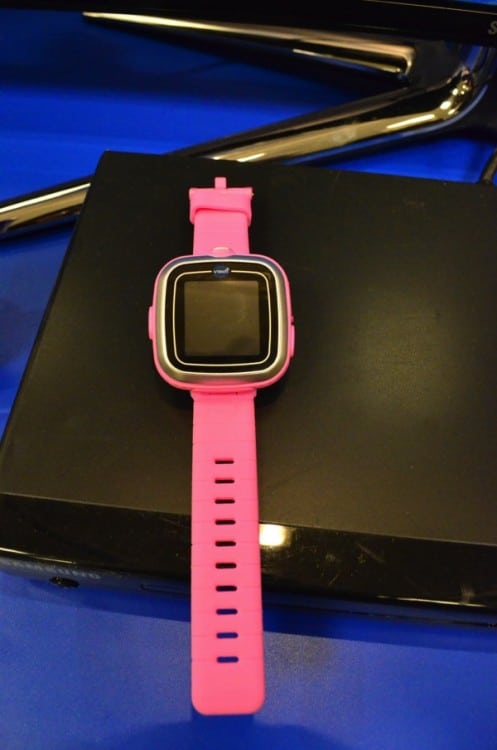 All of the new products will be available this Fall.
---
[ad]