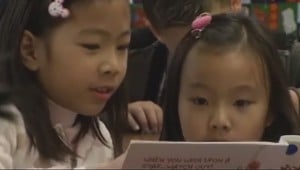 There is definitely something in the water in Rowland Heights, California . The community, which is located in the San Gabriel Valley, may have set a record for the number of twins on campus at one time.
According to office officials the Blandford Elementary School is home to 14 sets of twins, many of the identicals. The school has a population of 673 students of which 28 are multiples.
Aida Lugo, the office assistant, noticed the unusual number of pairs a year ago when there were only 10 sets.
"What's with it in Rowland Heights? Is it something in the water?" she said.
There is no word on whether any of the other 13 Elementary schools in the district have noticed the same trend.
SOURCE
---
[ad]