For the second time this week, a young child has been saved from a potentially fatal situation.
On Monday an 18-hour rescue to save the 19-month-old little girl from the 13m (42ft) deep shaft in Tak province, near the Myanmar border, proved successful. After her parents – who were working in a nearby field – raised concern, an overnight rescue operation was launched.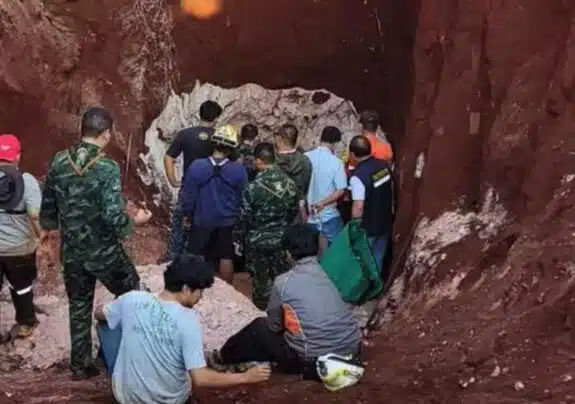 The incident occurred when the toddler's parents had taken her to work with them at a tapioca farm where she was playing under a tree. Shortly after cries were heard coming from a nearby well which prompted the family to call for help.
In order to ensure the rescue was a success oxygen was pumped into the well to help her breathe and a 10m deep pit was dug adjacent to the well which crews used to access her location.
As they got closer to the bottom there were concerns that the well could collapse in on itself and harm the child if they continued to use the digger, so they used shovels to remove the final few meters of earth.
Thankfully the actions of local authorities and emergency responders, she was successfully retrieved and taken to the hospital where she was treated for minor injuries.
"She has signs of fatigue but still has good vital signs," local police chief Ratsaran Ketsoising told AFP.
Cheers erupted from the assembled rescue workers after the girl was finally pulled from the well.
"We are so glad we could rescue her safely," rescue worker Chanachart Wancharernrung told reporters. "We have been trying since yesterday afternoon. We worked without sleep. Everyone helped out."