For the third year Moose Toys has introduced a Limited Edition Shopkins Shoppie Doll for San Diego Comic-Con International from July 19.  This year fans will actually be able to purchase a double pack!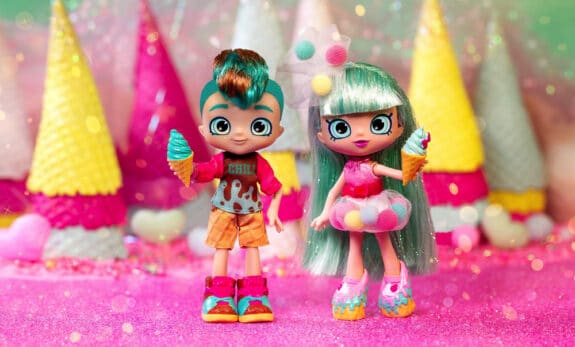 Peppa-Mint and her stylish cousin Chip Choc (their first BOY SHOPPIE!) will come as a team in a bubble pack shaped like ice cream cones.
Chip Choc comes with a pair of sunglasses and a ice cream cone.  He has a mint and brown mohawk, chill tee and board shorts. 
Peppa-Mint has minty sparkly hair and a really cute skirt with pompoms in it.  Famous for their shoes, she has melted ice cream cones on her feet and is accessorized with a mini ice cream cone.

These dolls feature new jointed limbs that make them more poseable.
Moose Toys will only make 1500 of these sets so fans will have to move quickly if they want one!