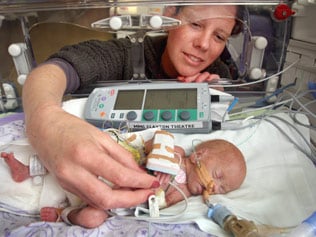 In a world first, tiny Taylor Gardner has been fitted with a pacemaker bigger than her fragile body.
Born after just 25 weeks and weighing an unbelievable 540g, Taylor's heart began to fail in the hours after her birth, forcing Melbourne's Monash Medical Centre surgeons to try the untried.
The cardiac team wired an external pacemaker to her tiny heart, allowing her to stay alive so she can be fitted with a more conventional pacemaker in coming months.
A 19 week ultrasound revealed Taylor had a complete heart block found in 1 in 200,000 babies.
At that time her mother Rebecca Gardner was put on bedrest so that her pregnancy could be monitored.
"It was heart-wrenching, but I wanted her to survive because she is my 11th pregnancy and I only had one child," Ms Gardner said.

"I just wanted her to be alive. Everything else you push to the back of your mind and then pray and hope.

"You just have to put on a brave face, lots of prayers and hope the surgeons can perform a miracle.

"She's a fighter and she is feisty. Even though she has such tiny hands, I reckon all the nurses are wrapped around her little finger."
Nine hours after her birth on May 25, Taylor's heart rate was getting worse instead of better and she had to be rushed in for a pacemaker. As a result of her condition, her heart beat at between 40-50 beats a minute, rather than 150.
Although only a handful of premature babies in the world had ever been fitted with an external pacemaker – and none less than 750g – Dr Alex Veldman said surgeons had no other choice but to rewrite history.
"It is a bit like flying to the moon – you have to try something that was never attempted before," he said.

"In a hospital like this we can have all the expertise and all the knowledge to make it as safe as possible, but, in the end, you still have to try to fly this thing.

"It is quite an amazing thing, because the size of the baby's heart is half the size of a cherry, and to suture these wires on to that heart without injuring it is astounding."
Five days after the miracle operation, Taylor's bowel perforated and she needed another major operation.
Dr Veldman said that now she's made it through the first week of her life, her biggest dangers were behind her.
For even the smallest internal pacemaker, Taylor will have to grow between 1.5kg and 2kg in three months before she is big enough to get one and able to leave the neonatal intensive care unit.
Other Amazing Babies:
---