Skip Hop, a company out of NYC, has designed these three pieces to organize your baby goods more effectively. I love all three pieces because they are both functional and fashionable. I wish I had seen the diaper organizer sooner, our diaper station is a cluttered mess.
"Tool Box" Diaper Organizer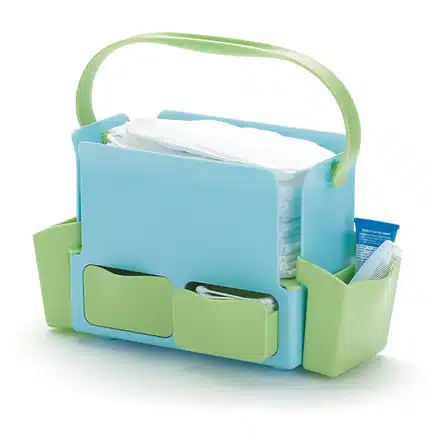 Holds up to a dozen diapers
Large side pockets hold creams, ointments, thermometers and other items
Two drawers ideal for cotton balls, Q-Tips and other essentials
Convenient handle allows for use throughout the house
Can be assembles with or without side pockets
Cleans easily with a wet cloth
Dimensions: 14.5″ Wide x 8.25″ High x 6.5″ Deep
$39.99 U.S.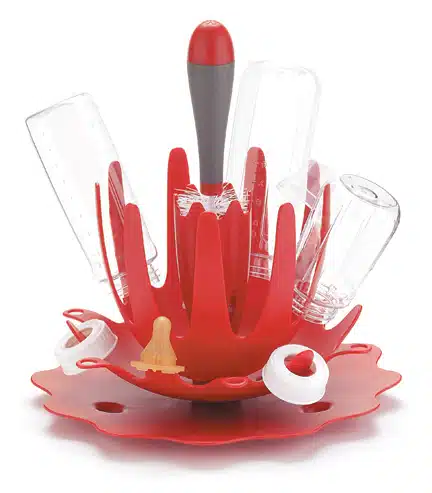 Includes integrated, rubber gripped bottle brush
Holds up to nine bottles and/or cups and rotates for easy access
Special doodad shelf for nipples, valves, caps and other small items
Removable tray facilitates easy disposal of excess water
Certified food safe
Dishwasher safe
Dimensions: 10″ wide x 11″ high (including brush) x 10″ deep
$29.95 U.S.
"Chow" Baby Food Jar Organizer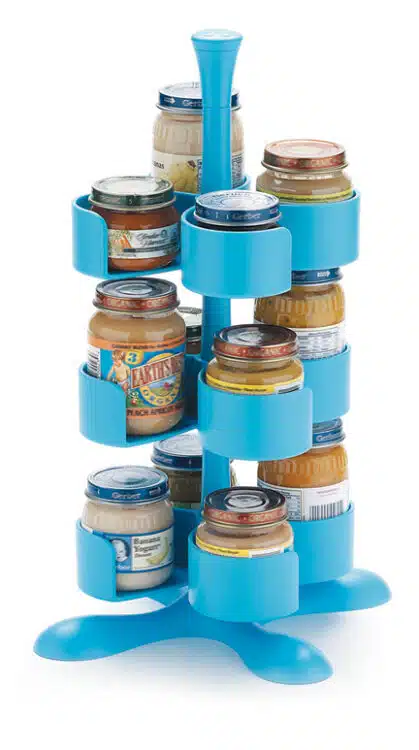 Holds up to a dozen jars, both small and large
Independently spining shelves allow for easy display of labels
Padded, no slip base
Can be assembled with either two shelves or three
Certified food safe
Dishwasher safe
Dimensions: 9.5″ Wide x 15″ High x 9.5″ Deep
$24.95 U.S.
---