After I had my second son the last thing I wanted to do was entertain friends and family at the hospital. The space was small, I looked like crap and I was exhausted. The more I talk to new moms I realize that I'm not alone.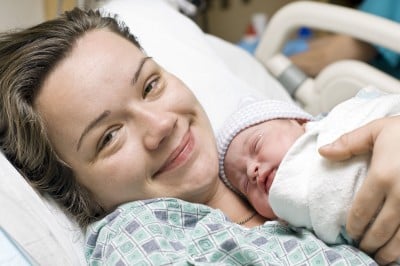 Here are 5 reasons why new moms don't need hospital visitors:
Mama Needs Her Rest! Having a stream of visitors rolling through your room prevents new moms from getting their rest. Depending upon how long (and strenuous) labor was, you probably just want to sleep.
Every Couple Needs Time To Bond – The day or two that you get at the hospital after the baby arrives is a nice time for mom and dad to just focus on the baby. Because you don't have to worry about making food or cleaning your room, new parents can spend time bonding with the baby.
Can Inhibit Breastfeeding – New moms who are trying to establish good breast feeding habits need to feed on demand whenever the baby is ready. Because not all moms always feel comfortable to openly feed their babies in front of friends, having visitors can prevent them from learning the proper nursing techniques.
Stressful – Having to entertain guests just hours after going through such a life changing event can be stressful especially for first-time moms who want to just enjoy their time with their new baby and what is happening.
Illness risk to the new baby – Because a newborn doesn't have an immune system, having visitors coming through and holding them can put them at risk of getting sick shortly after birth.
Tips:
In order to gauge how the new mom is feeling – ask her honestly if she would like a hospital visit. If she says yes, come and only stay for no more than 20 minutes.
Don't bring flowers.  If you really want to give her something she'll appreciate send her a fruit bouquet once she's home.  It will come looking like flowers, but will keep her alive for the first few days she is home!
Related Articles:
---